Advice
How to incorporate the popular industrial design look in your home.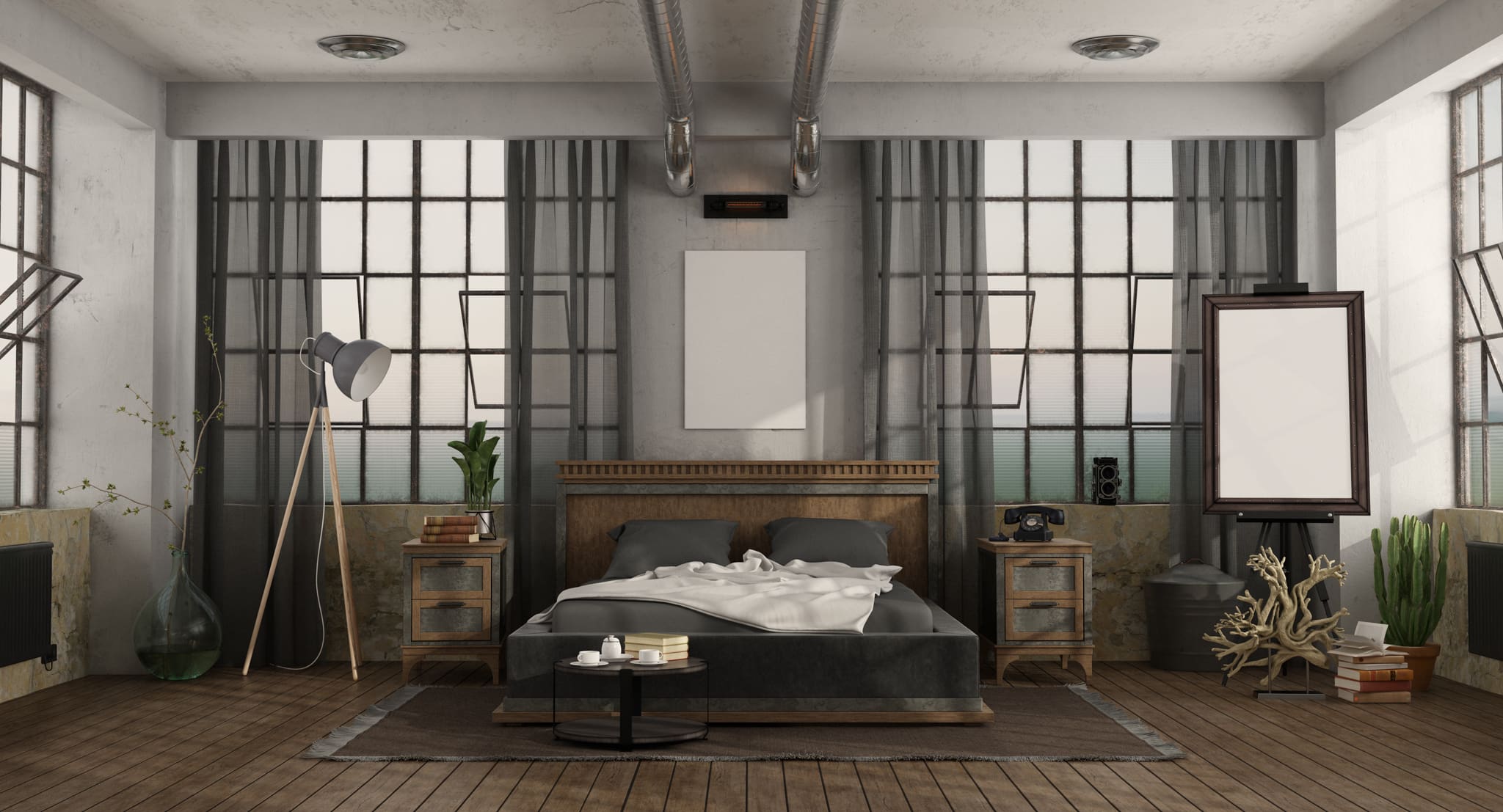 Moving into a new home is like having a clean canvas. It's a chance to start completely fresh, especially with your décor. If you like the look of stripped-back architectural details like bare bricks, exposed light bulbs, metals, wood and recycled materials, then industrial design décor may be the style you're going for. Read on for ideas on how to incorporate the popular industrial design look in your home.
The industrial design came about in the early 20th century when many manufacturers moved to other countries and left empty warehouses and lofts in their wake. People quickly recognized that these large places could be converted into great living spaces. They also realized that leaving some of the original architectural details could make for interesting design. Consequently, industrial design décor was born.
To bring the minimalistic industrial design look into your home, just follow some of the design principles below. Note that amping up your décor doesn't have to be cost-prohibitive. Start by scouring websites like Kijiji,Facebook Marketplace and eBay or shop Wayfair or Overstock for industrial-inspired pieces that won't break the bank. If you're feeling flush with cash, Restoration Hardware has hundreds of stunning pieces that give off the industrial design vibe.
.
1.Mix natural textures like wood or metal.
When it comes to industrial décor, use lots of natural materials in their original form —meaning reclaimed wood from barns, floors, warehouses and even boats. Rustic wood will help warm up your space when juxtaposed with exposed metal —the other industrial design staple. As for what to use where: reclaimed wood is often used for floors, doors and tabletops. On the other hand, metal accents can come from lighting fixtures and pendant chains, faucets, or even metal coffee tables or chairs.
2.Expose the brick.
Exposed brick walls instantly create a rustic or factory-like feel. If you've moved into a modern home, here's good news: you just may have bricks behind all that drywall. If you do, consider exposing it and watch how your room is instantly transformed. That "unfinished" look is key to industrial décor, so leave those bricks distressed and resist the urge to grab the scrub brush and clean them. Instead, bring out your home's history and pay homage to its past!
3.To be ahead of the curve, think straight.
Industrial design was born of practicality and function. That's why it's minimalist and unfussy in design. In other words, couches, tables and chairs have straight lines and edges and simple, blocky silhouettes. In contrast, round shapes usually serve as contrasting accents, appearing in wheels, stool tops, lighting and wall accents. Take a look at your existing furniture and assess which pieces meet this minimalist design principle. If you're not quite ready to part with some of your old furniture, consider a storage solution.
4. Add a splash of vintage to make a statemen.
Draw the eye in different directions by mixing in a rustic statement piece here and there. Antique markets and thrift shops are filled with rustic old signs, clocks, old armoires, cabinets chairs and chests. Re-purpose items like old metal boxes, cool suitcases or even lockers for storage and make them a focal point.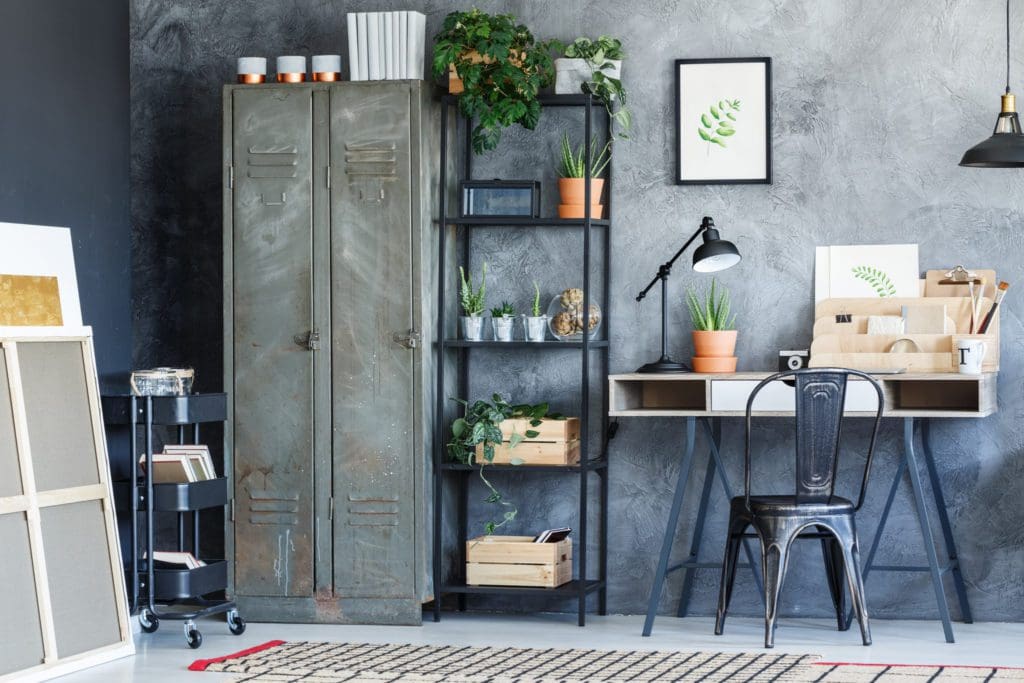 5. Refine your palette.
Industrial décor tends to be focused on blacks, browns and metallic silver and grey, with small touches of white. The natural colours and textures of concrete and steel are popular as well. If you're someone who can't live without bright colours, use one colour as an accent very sparingly. For example, cushions or artwork can be places to add these pops. But be aware that bright colours tend to work against the monochromatic scheme that seems to define industrial design.
6. Expose the inner workings of things.
When reasons to venture outside the home stopped, we all hunkered down. First, kids learning and playing from home while parents worked from home led to us spending way more time together. As a result, we rediscovered the importance of family time. Next, new family traditions were born while we all learned how to spend time together without outside distractions. An important tenet of industrial design is that everything is on display —right down to the light bulbs.
Look for vintage-style Edison light bulbs, cage designs and pendant hanging lamps hanging from chains or industrial-looking wiring. Next, expose ducts, radiators and pipes to incorporate them into your look. Lastly, hang a bike, display a collection of rusty old gears, re-purpose an old sewing machine as a side table base. The more authentic and original-looking, the better..
n closing, a new home is a great opportunity to express yourself and explore a different side of your personality. If you're looking for a place that sells well-known furniture brands at deep, discounted prices, check out The Furniture Shop. Bear in mind that the easiest time to transform a home is before you move in all your belongings, so if you have time on your side, start early. And if you need a mover to help get you to your new address the experts at AMJ Campbell can help.