Encore Home Delivery
Re-defining third-party home delivery.
Today's digital world has changed how your customer's shop. They're buying more online and ordering more frequently. The new expectation is for orders to be delivered both quickly and accurately, and this creates a new challenge for businesses like yours.
That's why AMJ introduced Encore Home Delivery Services. Our coast-to-coast infrastructure and state-of-the-art tracking system means we can deliver your customers' purchases efficiently across the country. With 36 interconnected waypoints across the country, a massive fleet, and the support of advanced logistics, we deliver quickly to keep your customers returning again and again.
Warehouse / Inventory
Logistics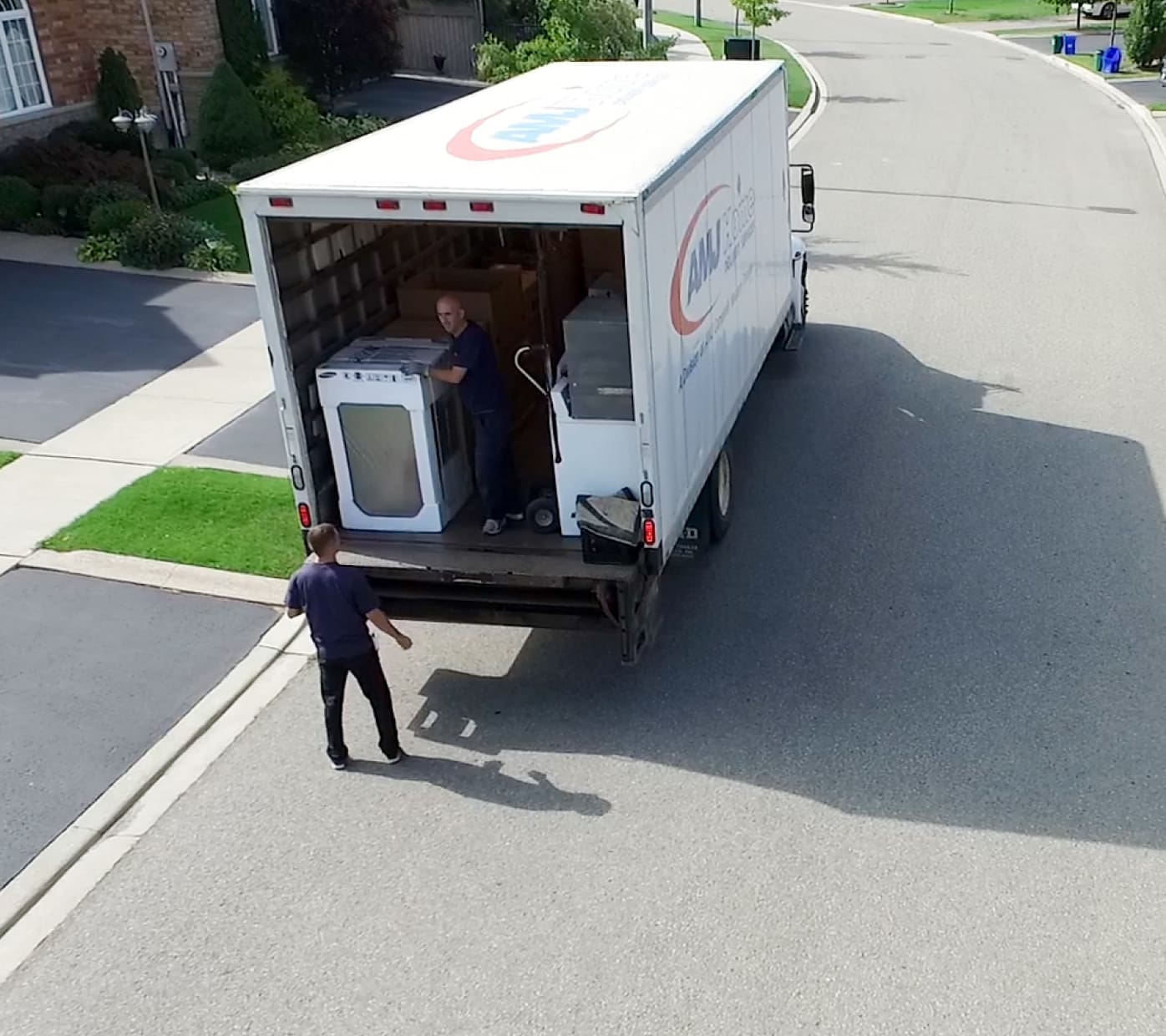 Customize deliveries for your customers
Encore Home Delivery has a variety of services to help you meet your clients' specific needs and budgets. Our White Glove Service is ideal for deliveries of large, heavy items such as furniture, appliances, electronics, or exercise equipment. Select this service and we'll deliver to your customer's room of choice, assemble the item, and even take away all the packaging for disposal. With Room of Choice Service, we deliver to any room – including those located up two flights of stairs. Our Threshold Service is a great option for apartment and condo dwellers because we deliver to the first secure location just beyond your customer's front door. And for those who prefer contactless deliveries, our Doorstep Service delivers right to their front door without stepping inside. Why do we have so many different service options? Because we want to make sure you have the custom delivery services you need to make every delivery a success. Are you ready to redefine delivery with us? Let's get a move on.
Ask us
Logistics Services: First Mile Delivery
When you need to get products from your manufacturer and store them somewhere for the short or long term, our 30+ warehouses across Canada are a definite plus. So is our sophisticated logistics infrastructure. We use barcoding technology to ensure accuracy, digitize the flow, optimize logistics and give you a 100% view of what's going on at all times.
Storing your goods safely
Encore Home Delivery's secure, temperature-controlled warehouses are an ideal solution for e-commerce and retail customers who need space. Enjoy 24/7/365 warehouse security, thanks to 360° video surveillance cameras and staff-only clearance to monitor our permanently locked and bonded warehouses.
Saving on storage costs
The costs to own your own warehouse are significant. So why not take advantage of ours and keep your overhead costs down low? Ours come climate-controlled, clean and secured. They even come with inventory management services so you can say goodbye to that added expense at your end. Now that's what we call a great performing ROI.
Logistics Services: Middle Mile Delivery
When it's time to transport products from the warehouse to your store, we handle it all with ease. Our Pick 'N Pack service is designed to gather multiple SKUs quickly and accurately and get orders on their way to your store in record time. After all, you'll need your products in-store if you're going to crush the competition.
Logistics Service: Last Mile Delivery
Small drop sizes, traffic delays and spaced-out rural deliveries can quickly cause your ROI to plummet. That's why businesses rely on our logistics to keep their supply chain moving. Our sophisticated infrastructure is designed to act and react quickly, re-routing drivers and deliveries according to weather and traffic conditions and ganging up orders to boost cost-efficiency.
Robust, Transparent Customer Support
Your dedicated account representative will work to customize your reporting system in the way that works best for you. Both you and your team will be trained on how to use our easy system from any device, at any time. Check your customer feedback at any time, via our portal. With our streamlined system, we're betting you'll be reading a lot of rave reviews.