Home Moving
Moving to your new home.
Moving to a new home can be a stressful. There are details to keep track of. Logistics and checklists to organize. And it all needs to happen within what's often a time-crunched timeframe. That's why at AMJ Campbell, we customize our home moving services to take the stress out of every step in the process… in a way that works for you.
We've worked this way to make over 1,000,000 moves happen for over 85 years.
And we know we can do the same for you.
2,600
Team members to make your move worry-free
Have a more complex move?
We'll make it simple.
Wherever you are and wherever you're going, one of our 75 offices is bound to be close by. We are located in every Canadian province and have partnerships with some of the biggest names in the business. That means we can be your one-stop shop for multiple-location moves, or even take the waves out of overseas relocations.
Planning a smooth move in 4 easy steps
Establish the budget.
At AMJ Campbell, we make it our goal to provide accurate estimates right from the get-go, to avoid nasty surprises along the way. That's why our virtual visit (or in person, social distanced if you prefer) is so important. We'll need to get an idea of how big your space is now, how much and what kinds of things you'll be moving, and what type of move we're looking at.
Get organized.
We'll give you a binder to help you keep track of details and tasks, right up to the last day in your old place. Staying organized will help keep things simple and low stress; all you have to do is start now and do a couple of things every day. Who knew moving could be so straightforward? Oh, we did.
Get packing!
Packing is an ideal opportunity to sift through all those things you've accumulated over time and donate those things that you no longer use. Need packing materials and boxes for the things you want to bring with you? AMJ Campbell has high-quality boxes and packing materials available. Just ask!
Arriving at your new address
You've arrived at your brand new home! Our moving team will have delivered each box in the appropriate room, to help you stay organized. Your Destination Rep will have arranged to have any storage things delivered to take that To-Do off your list. So order in pizza, take a break and appreciate the moment. Doesn't it feel good to be home?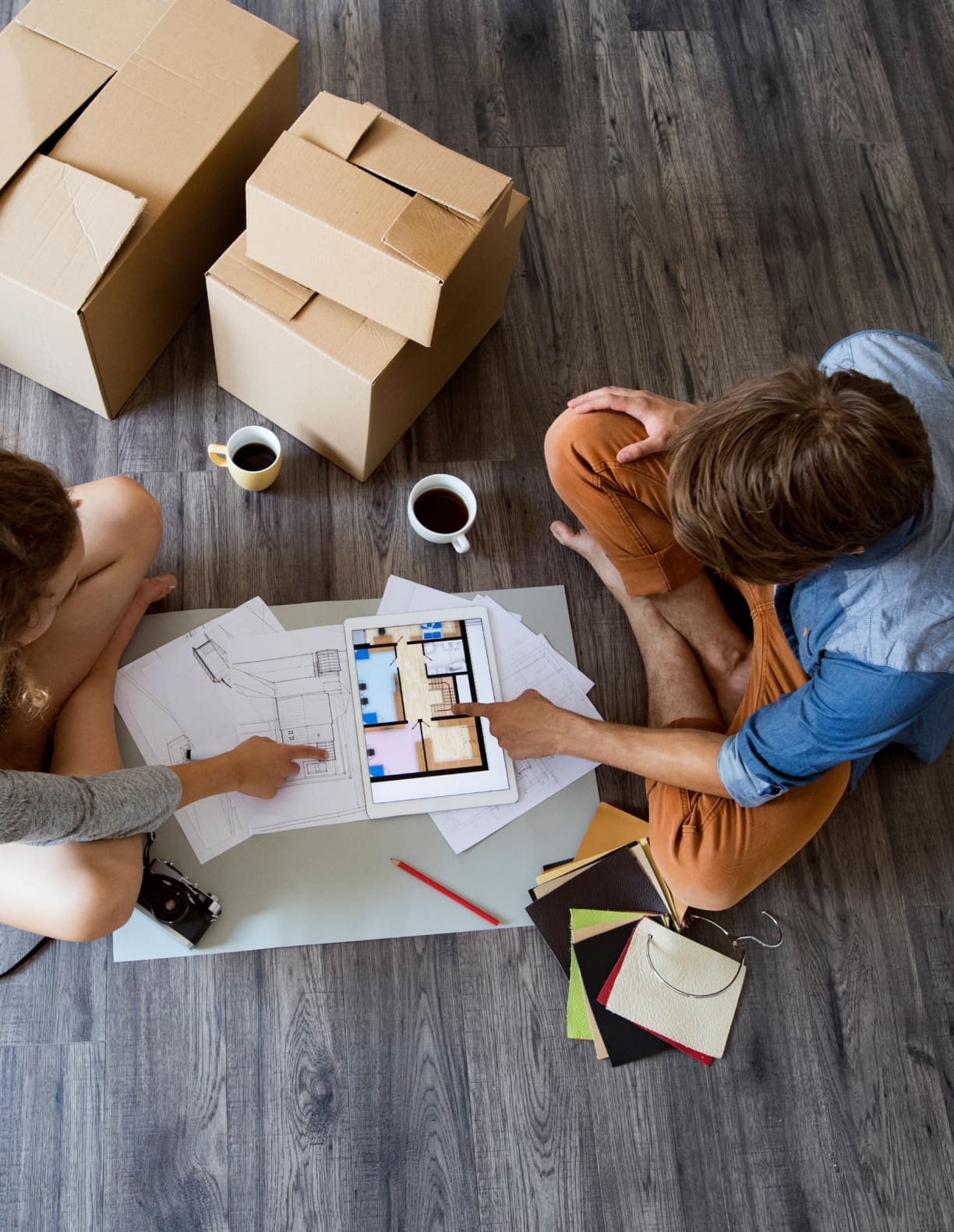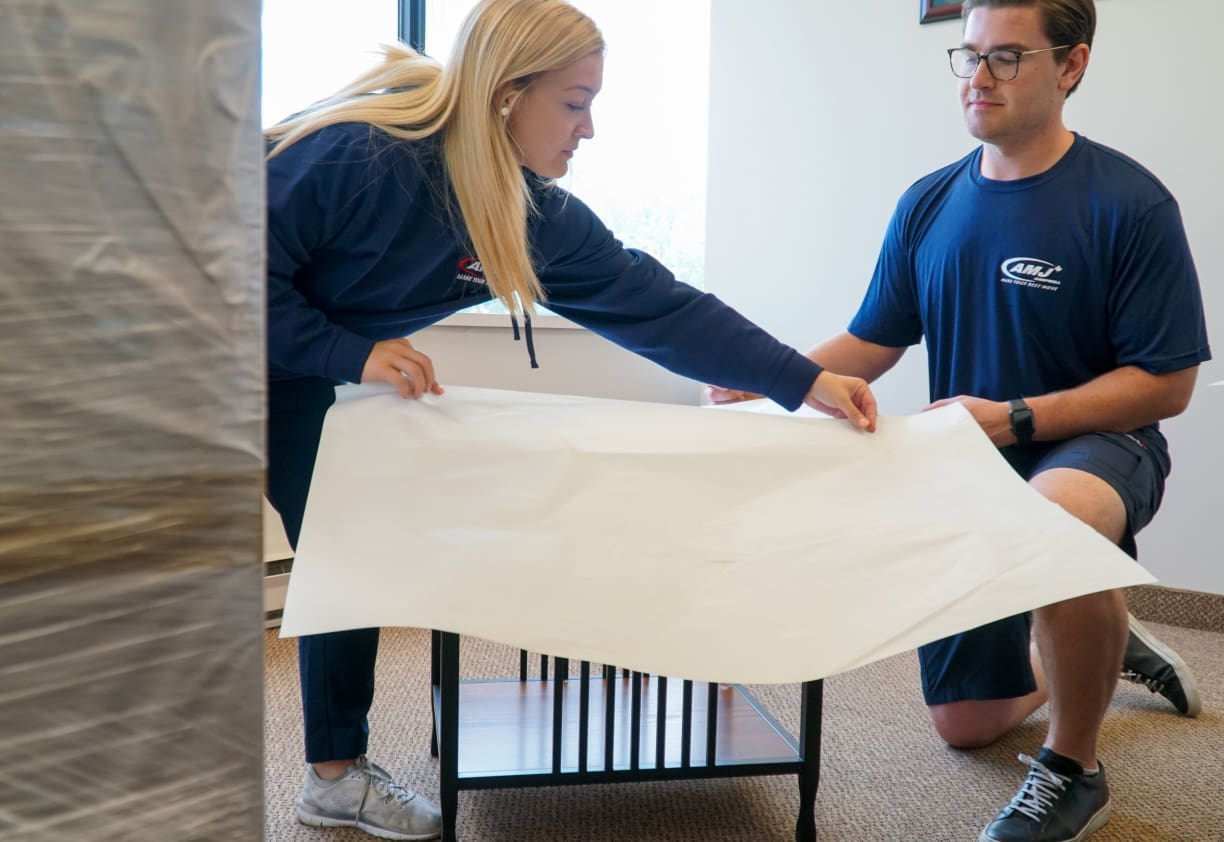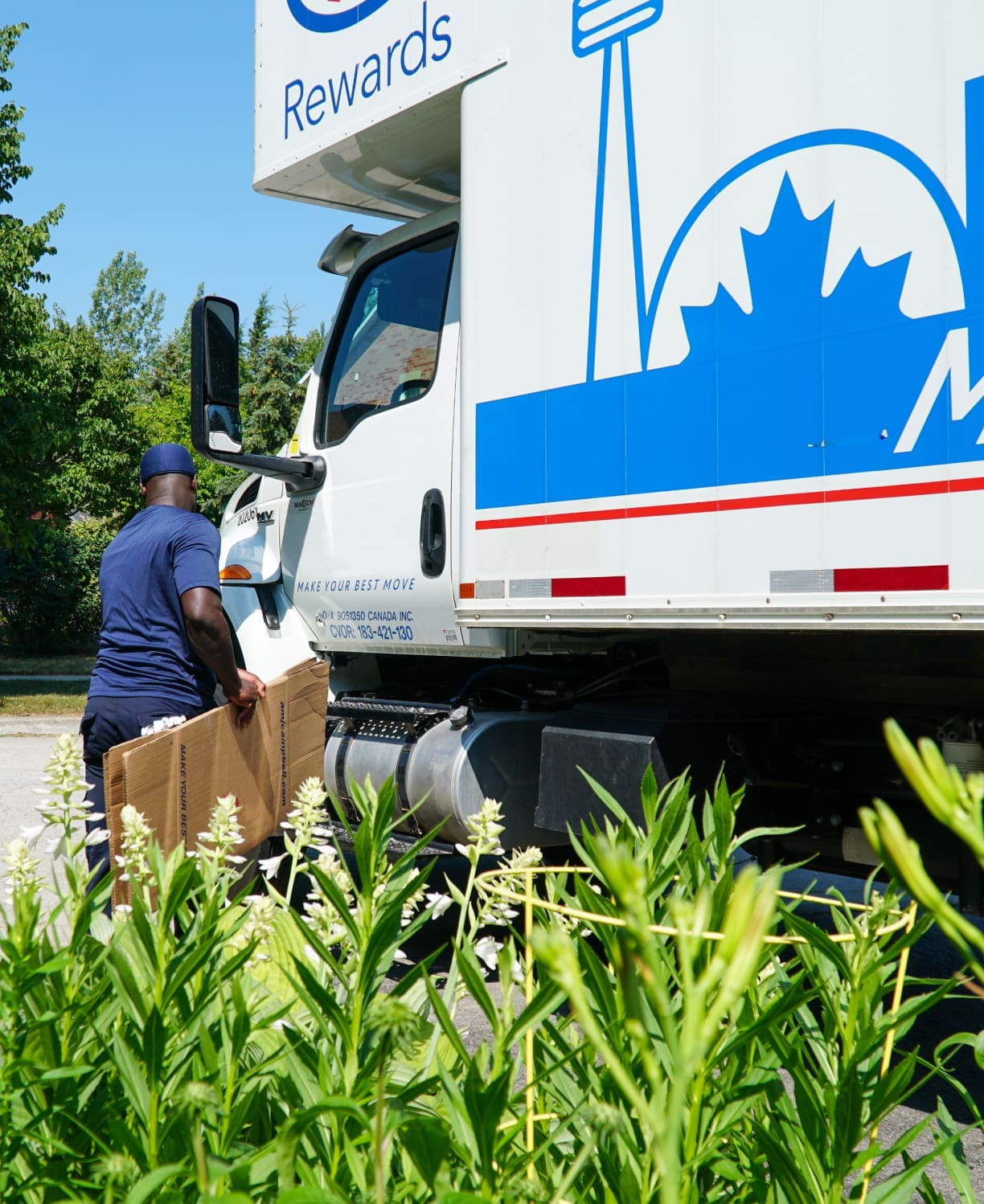 Move-out and Move-in dates not aligning?
Use our Affinity Vaults.
Moving can have lots of moving parts (pun fully intended). Move-in dates can change for any number of reasons, leaving you scrambling with what to do with your possessions. Enter AMJ Campbell's Affinity Vault: a safe and convenient way to store and move your belongings.
Safe, climate-controlled storage
How our Affinity Vault works is easy: We deliver a sanitized, self contained vault to you, you load it up with your stuff, we take it away for secure, climate-controlled storage until you're ready for it.   How's that for easy?
Minimized handling
When your possessions are handled less, your potential risks during COVID-19 go down. You may choose to load and unload your Affinity Vault yourself or use our professional PPE-outfitted movers. And here's a bonus: there are no storage costs during any official self-isolation periods required upon your arrival in your new location.
You're in control
You're in control: you choose the exact arrival and departure date of your AMJ Affinity Vault. This takes the guesswork out of knowing when your belongings will depart and arrive. Your move is on your schedule, and your schedule and costs are under your control.
Flexibility for when life throws you a curve
We know things change and your calendar can shift. That's why our Affinity Vault has flexible scheduling; you can store your container in our climate-controlled warehouse until you're ready to have it delivered it to your new door.
See what our customers have to say.
What our customers have to say about us speaks volumes. So we're very happy to let them do all the talking.
Your crew surpassed all my expectations in every way … I just want to say thank you.
AMJ Campbell looked after all my needs in a professional and courteous manner.
On moving day, your team worked with complete competence, excellent judgment and planning.
Moving is always a stressful experience … you made it 100 times less worrisome.
Benefit from AMJ's world of moving experience.
(even if you're just moving locally)
We know moving. We've done it 1,000,000+ times.
If there's one thing all of our experience has taught us, it's how to make sure your move goes smoothly. Need proof? Just read through a couple of our customer reviews. Our happy customers are spreading the good word!
Here's the big idea: no detail is too small.
You're not just moving addresses, you're also moving everything you've spent years collecting.  We get that. That's why we handle everything with care: from that expensive artist's proof to that irreplaceable birthday macaroni card.
A dedicated person handling your move.
When you hit an obstacle, you'll want to know who to call. That's where your dedicated customer rep comes in. This is the person who will keep your move running smoothly, solve any issues that may arise, and answer any questions you have along the way.
A huge toolkit of solutions.
Life happens. Maybe your move-in date has been delayed. Or you need to add a second address to your move. Or you're downsizing and don't have room for all that your furniture in your new place. If you're facing a challenge, talk to us. After 85+ years in the business, we'll have a solution for you.
Complicated move? We do that.
Not every move is a simple one. Residential moves can involve multiple address drops or require both air and land transportation. Border crossings can come with complicated paperwork. Or maybe you're moving to a whole new corner of the world. Not to worry, we do it all. And then some.
Got a challenge? We've got the answer.
It's our job to find a solution for you, no matter what. And we really like our jobs. So, when it comes to your move, AMJ Campbell can address everything that's on your mind — regardless of how big, small or unique it is. Just ask. We'll find the answer. It's what we do.
Reach out