General
3 Tips for a Successful Moving Sale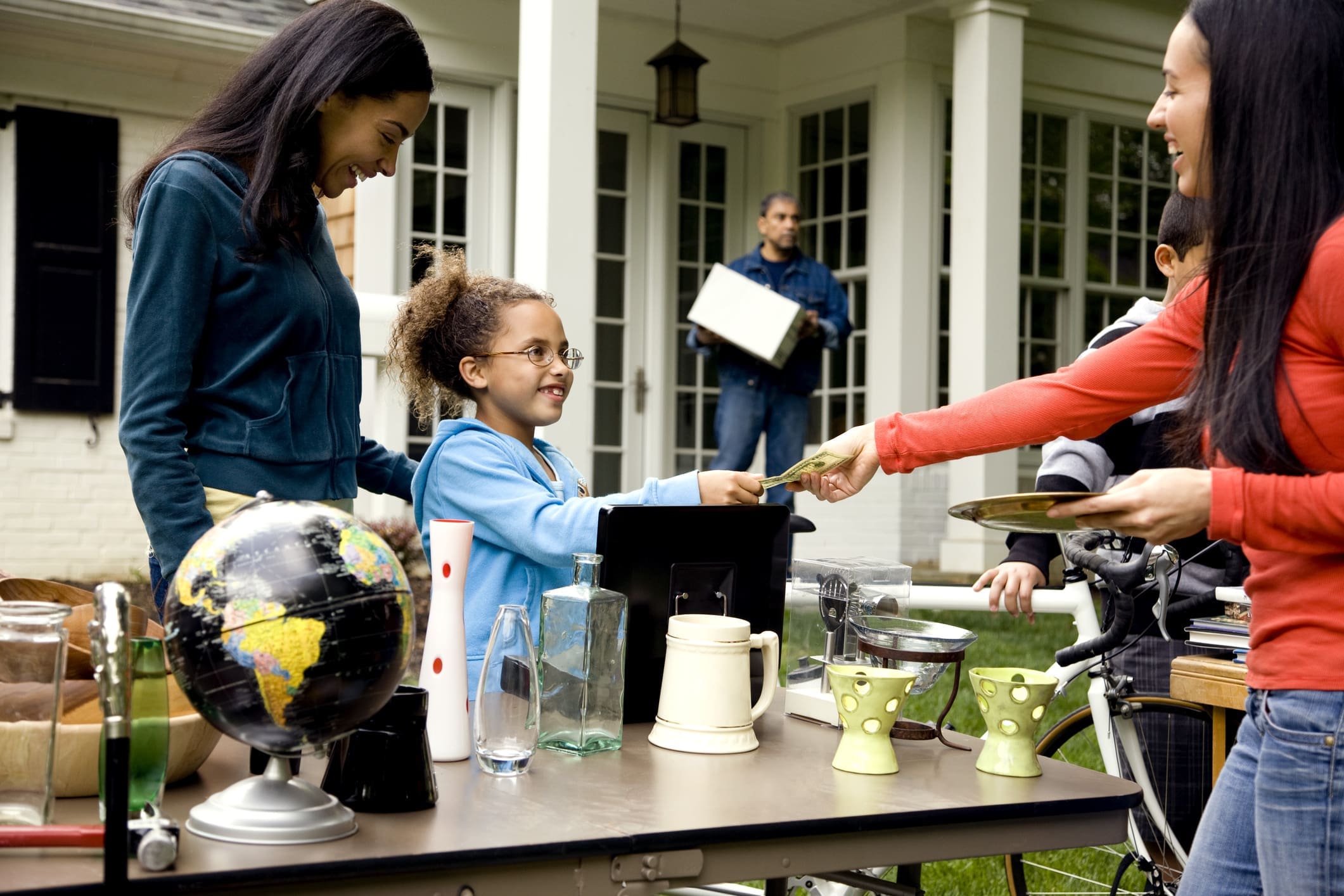 Packing is a lovely reminder of all the wonderful items you own. It's also a potentially distressing reminder of all the stuff you've collected that is now cluttering up your life. Moving is an opportune time to turn that chaos into cash with a yard or garage sale. Organizing a moving sale can be a lot of work, but the rewards are well worth it. When you move into your new home with extra money and fewer belongings to unpack, you'll be thankful you did it.
Before embarking on your yard sale odyssey, it's important to do some research. There are a number of products which must meet safety requirements under the Hazardous Products Act. Car seats, garden torches, and helmets, among others, need to meet certain requirements for legal resale. We suggest checking this list compiling banned garage sale items and reading Health Canada's Facts for Garage Sale Vendors.
To help you get started on your moving sale, we've compiled our top 3 tips for making it easy.
Moving Sale Tip #1: Categorize Your Items
Visitors will have a better time navigating your market if it's well-organized. Not only does it need to be easy to get through—it also needs to be well-presented. Be sure to wipe that layer of dust off your wares and avoid trying to sell broken items. The more efficiently they find what they're looking for, the more likely they are to continue browsing—and buying!
Create Sections for Easier Shopping
While garage sales shoppers are all about the hunt for treasures, that doesn't necessarily mean they want to dig through a box of random toys, kids' clothes, and pet accessories to possibly find a gem. Create different sections for clothing, toys, ceramics, movies, and anything else that might be available. Some people are hunting specifically for lamps, kitchen items, or media, so give them the chance to access these items quickly and easily.
 Make Clothing Accessible
Sizing is a must when it comes to wardrobe. Separate different sizes (especially for kids' clothes, a popular department at yard sales) so shoppers can browse the sizes they are looking for. Additionally, if you clearly mark shoes with their sizes, fewer people will be trying on shoes that don't fit—keeping that section from getting congested throughout the day. Create a distinct area for accessories, as well—hats, belts, and scarves can be grouped together or separately, depending on quantity.
Be Smart About Pricing
Pricing items can be tricky. The cost needs to be low enough that it will sell, but high enough it will be worthwhile. Consider the retail value of the product (tip 7 in this blog), as well as the personal value of that item. If you're really interested in getting rid of something before you move, such as a large piece of furniture, it might be worth pricing it conservatively, so you don't wind up having to move it.
While it might be tempting to price things all at once on the morning of your yard sale, this may not be the best method. Dedicated garage-salers will be out first thing in the morning to get the best bargains around the neighbourhood. Price your items as you're boxing them up for your sale to save some time and energy. Group pricing, like charging $10 for each shirt or 3 for $25, can save you a lot of time and possibly bring more sales. Most importantly, keep prices to quarter or whole-dollars denominations to make on-the-fly addition and change-making a snap.
Moving Sale Tip #2: Offer Snacks & Drinks
If you have kids who are eager helpers, consider allowing them to oversee a refreshment table. This will keep them busy and out of your way. Let them give away food and snacks to those attending your yard sale. Include a tip jar if you like but be sure to check your local laws if you plan on selling food at your yard sale, as you may need a permit.

A Delicious Energy Boost
Lemonade or iced tea can be served out of a large jug or dispenser; add lots of ice on hot days. In the morning or on chilly days, keep carafes of coffee and hot water for tea on-hand. These refreshing or warming beverages will delight your browsers and extend their patience.
Be Allergy Friendly
Not everyone can eat nuts, eggs, gluten, or dairy. Do your best to avoid them where possible, but if you can't get around them, common allergens should all be clearly indicated. If you're quite keen, you can even attempt to make all your treats allergen-free, to avoid cross-contamination or accidental ingestion.
Moving Sale Tip #3: Spread the Word
Don't forget to advertise! Who can go to your garage sale if they don't know it's happening? The more people who know about your sale, the more successful it will be. Word of mouth is a good start—tell your friends, family, and neighbours about your market and encourage them to tell their social circle. However, don't rely on this alone.

Signage Success
Make flyers to put up around the neighbourhood. Put them up in local businesses, like grocery stores and post offices, that frequently have a bulletin board for posters. Don't forget to ask for permission—many places will require a stamp of approval. If it's not approved, your flyer may get taken down. You can place temporary signage in the neighbourhood, where allowed, that includes directions to help funnel people to your sale. Balloons, flags, and bright colours are fabulous attention-grabbers.
Your signs should have the location of your sale, as well the types of items you're selling. Include prices where applicable and be sure to mention items that may be of special interest, like kitchen appliances, furniture, or baby accessories. If you can, add photos of your unique wares on your signs.
Social Media Mentions
Facebook, Instagram, Snapchat, and Twitter are all useful platforms for advertising your yard sale. Create a Facebook event page where you can invite friends. You can also keep it public, so attendees can invite more people. Consider posting photos of your sale preparations with the date of the moving sale in the days leading up to it. On the day of, you could take photos or videos of the event or products for sale to entice your followers to check it out.
Online Marketplaces
People are checking online marketplaces every day. According to Global News, Kijiji Canada has 12 million monthly visits. Advertising your yard sale on Kijiji, Craigslist, and Facebook Marketplace could significantly boost traffic. Add your signage and items to your listing to help searchers get a good idea of what you have for sale to attract the right customers.
It's Worth the Work
A moving sale is a big event that takes lots of groundwork. However, the work is well worth the effort. Not only will you have extra money for moving expenses—you'll have fewer things to pack into the moving truck. When you arrive at your new place, you'll have less to unpack and more room to settle in.
To read more on downsizing for a move, read Downsizing Your Life: How to Decide What to Bring. When you're ready to move, choose from an AMJ Campbell location near you!