Advice
AMJ's Advice from the Expert: A Day in the Life of a Driver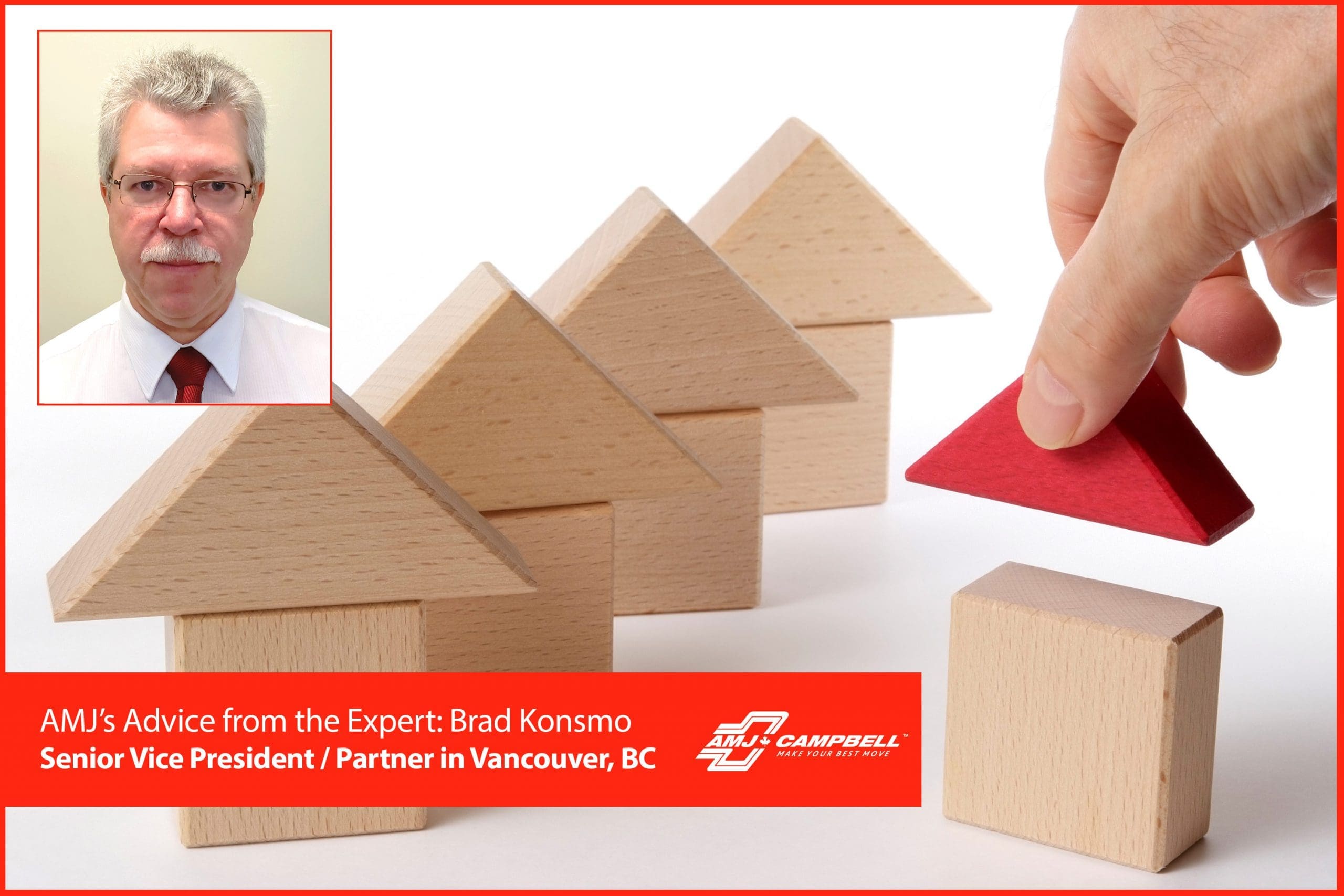 No matter how excited you might be to move into a new home, relocation can be a stressful process. But, did you know that, behind the scenes, moving teams put a whole lot of care, consideration, and pre-planning into each move to help support you and make your relocation feel as effortless as possible.
We sat down with Brad Konsmo, Senior VP and Partner at AMJ Campbell Vancouver, and Scott Finlay, General Manager at AMJ Campbell Winnipeg, to better understand the role drivers have in making this happen—including five key considerations you might not expect.
1. There's a big difference between local and long-haul drivers
At AMJ, there are two different types of drivers: local and long-haul—and their daily lives look a lot different.
"Both are pre-dispatched before the moving day, so they can assess the requirements of the move," says Konsmo.
They usually start the day pretty early. They will conduct a safety inspection of their truck before hitting the road. That morning, they'll also load any equipment they'll need for the job. They will then give customers a courtesy call on the morning of the move to confirm the team's arrival.
But that's where the similarities end.
As Finlay explains, local drivers will move belongings from one house to another with usually no more than about two hours' travel time in between. A local driver's shift usually last about eight hours, and local moves are generally completed in one day.
On the other hand, Konsmo adds that long distance drivers will confirm requirements with customers 24 to 72 hours in advance of the move. They might work with the customer for up to two weeks (or the duration of the move).
2. The driver is the leader of the moving crew
There are normally two to five people assigned to each team, depending on the size of each move. Drivers are responsible for playing the leadership role.
"The driver is completely in control of the move," says Konsmo. "From customer contact to walking through the house, [and] identifying all logistics—including precious items that need special attention and care."
Drivers also plan which items go into the truck first and how to arrange them all. Anyone who's ever played Tetris knows just how difficult it can be to fit everything in carefully—without leaving anything behind. They make sure all belongings are properly padded, packed, and protected.
3. There's a lot more pre-planning than meets the eye
Prior to packing the truck, the driver will conduct a walk-through of the home, then the team will tag all items to create an inventory. This is to ensure everything is accounted for once the belongings are eventually unpacked.
The house is then "prepped" with floor runners to help protect floors and carpets. Balconies and entrances are also protected when required.
Heavy or awkward items often need specialized equipment. For example, many pianos weigh up to 1,000 pounds, so there are special piano skids that are used to load and unload these. AMJ moving specialists will take note of these items beforehand so there are no surprises on the day of the move, Finlay says.
"It's their responsibility to protect the home and contents," adds Konsmo.
4. Customer service is a key consideration
Moving can be stressful—and AMJ gets this.
"Drivers are owners / operators with a vested interest in each move," Konsmo explains. "Their goal is to is ensure that everything is set up and put in place so that the customers are sleeping soundly on [their] first night in their new home."
In fact, if a family is moving locally out of a house on one day and moving in on a different day, AMJ tries its best to keep the same crew together on both ends to give the families a sense of familiarity and comfort. For long-haul moves, the same drivers will complete the entire job from start to finish.
5. Safety is always top of mind
Besides the daily truck inspections, where drivers do a 360-degree walk-around to check things like brakes, fluids and fuel levels, safety permeates other areas of the job, as well.
For example, trucks are stocked with standard equipment like safety kits, fire extinguishers, emergency cones, and vests to ensure safe transport. Vests ensure the movers are visible, while emergency cones help passersby navigate safely around the truck.
Additionally, trucks undergo inspections in keeping with regulated safety standards. Drivers are background checked and take annual training as part of their class 1 licensing requirements. AMJ also offers additional training for drivers who want to take part. In this training, team members are often paired with more experienced ones, so these newcomers can benefit from on-the-job coaching.
More than meets the eye
Our conversation with Konsmo and Finlay highlights the detail and professionalism that happen behind the scenes of a move—all designed to make the process efficient, safe, and less stressful for AMJ customers. Now, next time you see a driver behind the wheel of a moving truck, you'll know what an integral part he or she plays in making each move a success.
To learn more from an AMJ Campbell moving specialist, visit our blog.