Advice
Why a move to Vancouver gives you the best of two worlds.
Any place you can live surrounded by both the ocean and the mountains is pretty special. But that's not the only thing that makes it easy to fall in love with Vancouver. There's also the fact that Vancouverites have mastered the work-play thing. While there are many work opportunities, who wants to spend all their time working when there are magnificent mountains to conquer, an incredible ocean to discover and innumerable biking, hiking and walking paths to explore? With work and play coexisting so seamlessly in such a spectacular location, it's little wonder that this Pacific West Coast metropolis keeps making the lists of the world's best cities to live in. Yes, a move to Vancouver delivers the best of two worlds in so many ways.
1. A move to Vancouver gets you onto one of the world's most enchanting playgrounds.
Love snow? A move to Vancouver will put you close to 13 breathtaking ski resorts and more than 1,400 ski and snowboard runs. When the weather warms up, there are nearly 375 km of biking and hiking trails, 11 golf courses (plus another 57 within a 20-minute drive) and incredible sailing, canoeing or kayaking on the Pacific Ocean.
2. In Vancouver, you'll play in a milder climate.
It's no secret that Canadian winters can be harsh. But Vancouver has the warmest winters in the country. That might be a big reason why 2.71 million people choose to call this thriving metropolis home. The downside is that British Columbia's largest city tends to see its fair share of rain. But that seems a small price to pay to live in one of the world's cleanest cities.
3. Since you'll need to pay to play, it's a good thing Vancouver has many work opportunities.
From trade jobs to positions in office towers, Vancouver brims with job openings. There are many opportunities in the export sector, mining and forestry, biotechnology and software development and the huge, growing film industry. While salaries vary by position and education, the average household income in 2022 was $82,000. Note that in June 2023, the minimum wage goes up to $16.75/hour.
4. Once you decide to move to Vancouver, you'll need to pick a neighbourhood to live in.
Vancouver offers more than 20 neighbourhoods to settle down in. A recent Remax survey highlighted the five best of these:
Yaletown is the trendiest place to live and play, so it's where singles and working professionals tend to settle down. The area is home to art galleries, shopping, restaurants with lively outdoor patios and buzzing nightlife.
Mount Pleasant is a great choice for young professionals and families. This vibrant, artsy area has many restaurants, shopping, entertainment options and outdoor activities.
Strathcona is a pedestrian-friendly, east-end neighbourhood brimming with beautifully restored row homes. The area has a mix of cafes, vintage shops and eateries that cater to the diverse ethnicities that call it home.
Fairview: Home to Granville Island, this area is close to everything – which is probably why urban families flock to its apartments, townhomes and new condos. Its proximity to the seawall makes it a great place to bike or play in the seaside park.
Grandview-Woodland: This eclectic area is a mix of modern chic and historic charm. Here's where you'll find sprawling homes beside small cottages and ethnically diverse shopping, dining, and nightlife.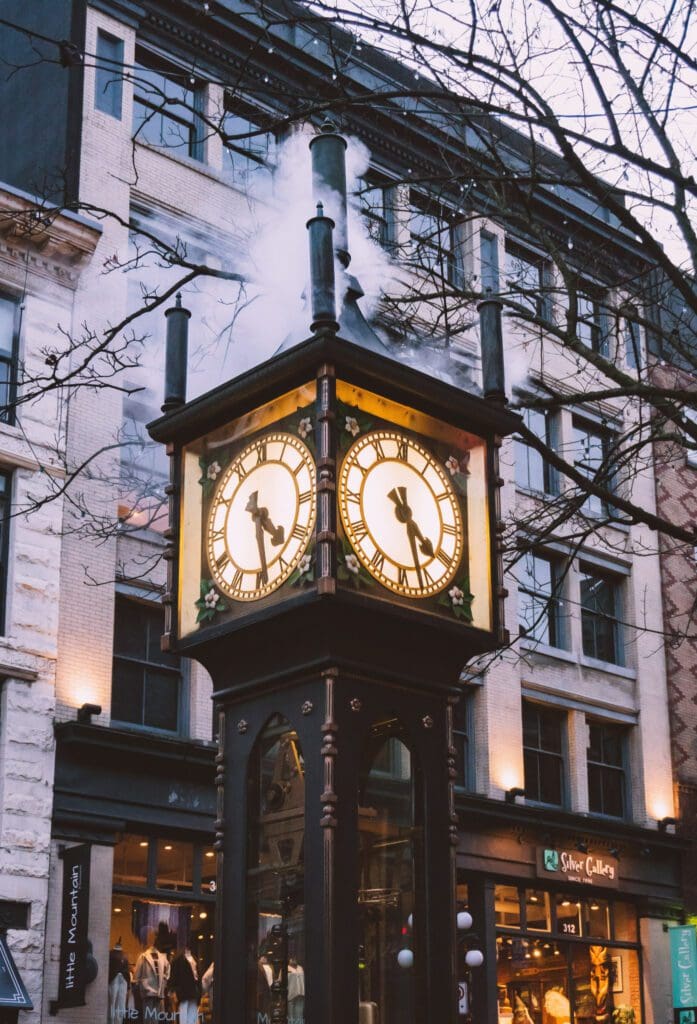 Other great areas to consider include Coal Harbour, Gastown and Kitsilano. Wherever you move, will you rent or will you buy? The $1.2 million average home price and the $2,556 rent for a 1-bedroom apartment may help you decide.
If you're looking to balance your work and play, Vancouver is one city that gives you the best of those two worlds. Once you decide that Vancouver is where you belong, you may need help to move your belongings there. That's where AMJ's Vancouver moving team can help. For a quick quote on your Vancouver move, call us at 1.800.383.6387.