General
10 spooktacularly creative (and inexpensive) DIY Halloween costumes.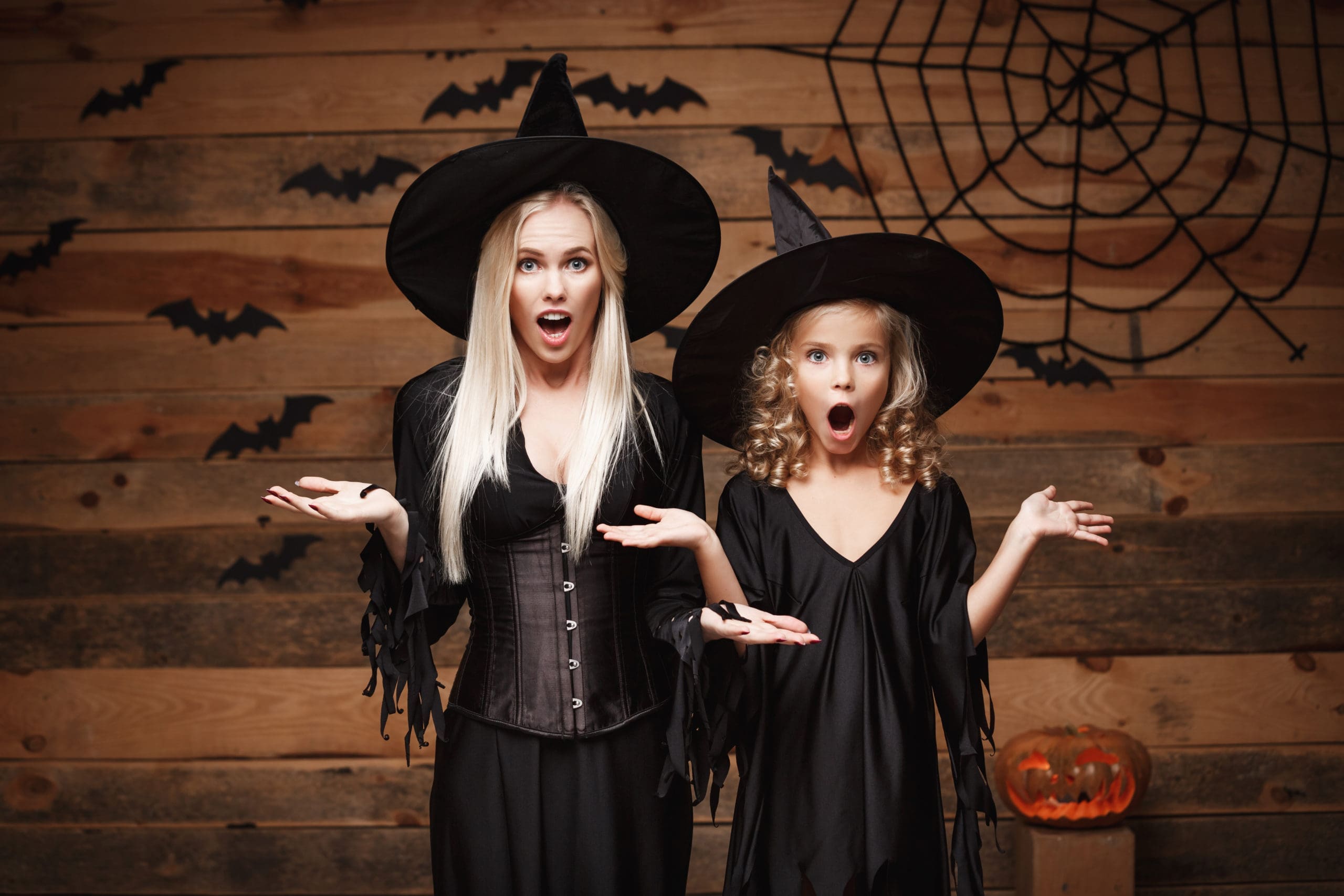 'Tis the season for ghosts, goblins and trick or treating. Whether you've got a youngster or you're young at heart, Halloween tends to bring out the kid in all of us. Stuck for a costume idea? You can always order a costume from a major retailer, Alternatively, you can get a little creative and design your own Halloween costume to make your look uniquely yours. Best of all, it doesn't have to cost a fortune. Here are 10 spooktacularly inexpensive DIY Halloween costume ideas.
1.Pick" this idea and dress up as a bunch of grapes.
This easy DIY Halloween costume requires a visit to your local party store or dollar store to stock up on purple or green balloons and medium-weight twine. Start by blowing up the balloons.
Next, attach these to a length of twine that's long enough to wind around your body several times.
Overlap the layers to create a fuller, bunched effect. Lastly, cut leaf shapes out of green construction paper and attach these to a hairband. De-vine!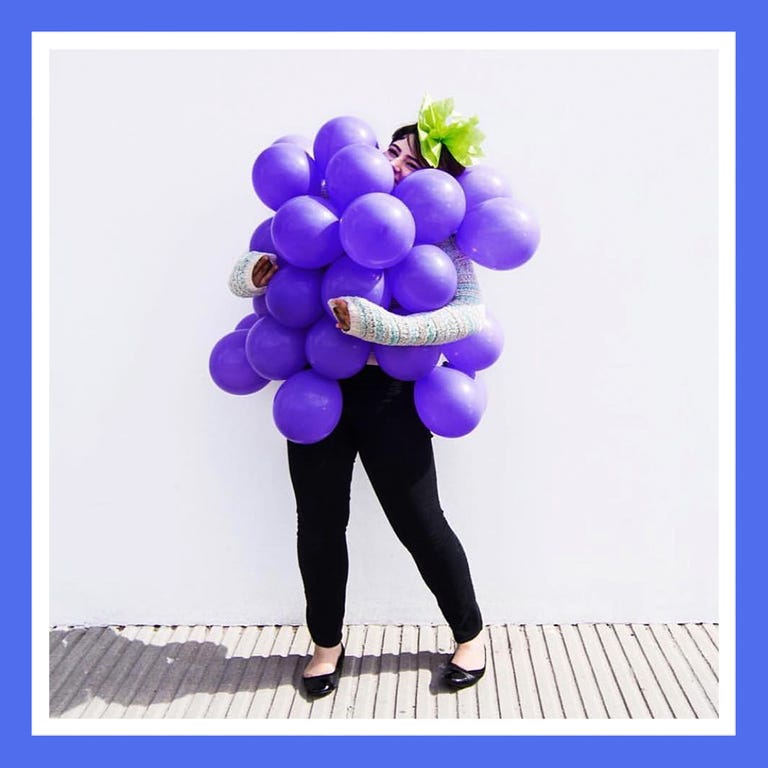 2.Channel your inner child and go as a gumball machine.
You can follow the tips on this video or simply head to your local dollar store or crafts store for a bag of colourful small pompoms.
Use a glue gun to attach these to a white shirt. Make a 25¢ sign to attach to your belt (does anybody else remember when gum was 5¢?) and put on red bottoms to complete the gumball machine look.
Bubble gum not your thing? The video link above also has ways to mmmmake cotton candy, jelly bellies, popcorn costumes and more.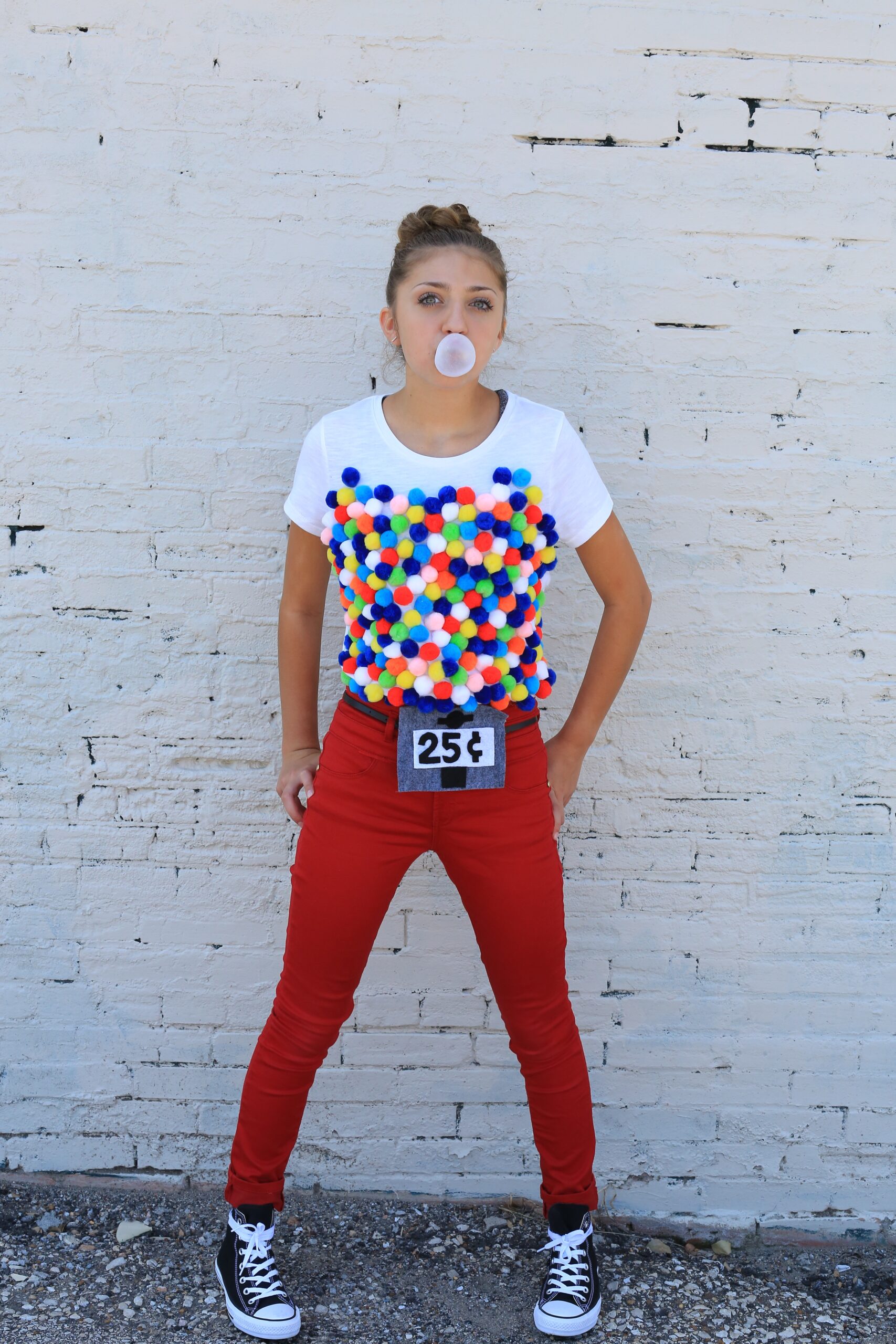 3.Look what the wind just blew in: an easy DIY windstorm Halloween costume!
All this creative costume idea requires is an umbrella, a few newspaper pages and some safety pins or tape. Flip an umbrella inside out and pin your clothes back strategically to make them look windblown. To make a tie look windblown, attach picture wire or florist tape to the back, then bend into position however you like. Attach a few newspaper scraps and candy bar wrappers to your pants and you'll be ready to take Halloween by storm!
4. Star as the theatre floor with this DIY Halloween costume.
A black morph suit can create a great base layer for lots of different looks.
Use it to create your own Kim Kardashian Met Gala look by adding a cape, or get super creative and go as a theatre floor.
Glue bits of popcorn, candy wrappers, popcorn boxes (available at your local dollar store), chewed up gum, straws and even crumpled up receipts for a costume that deserves top billing!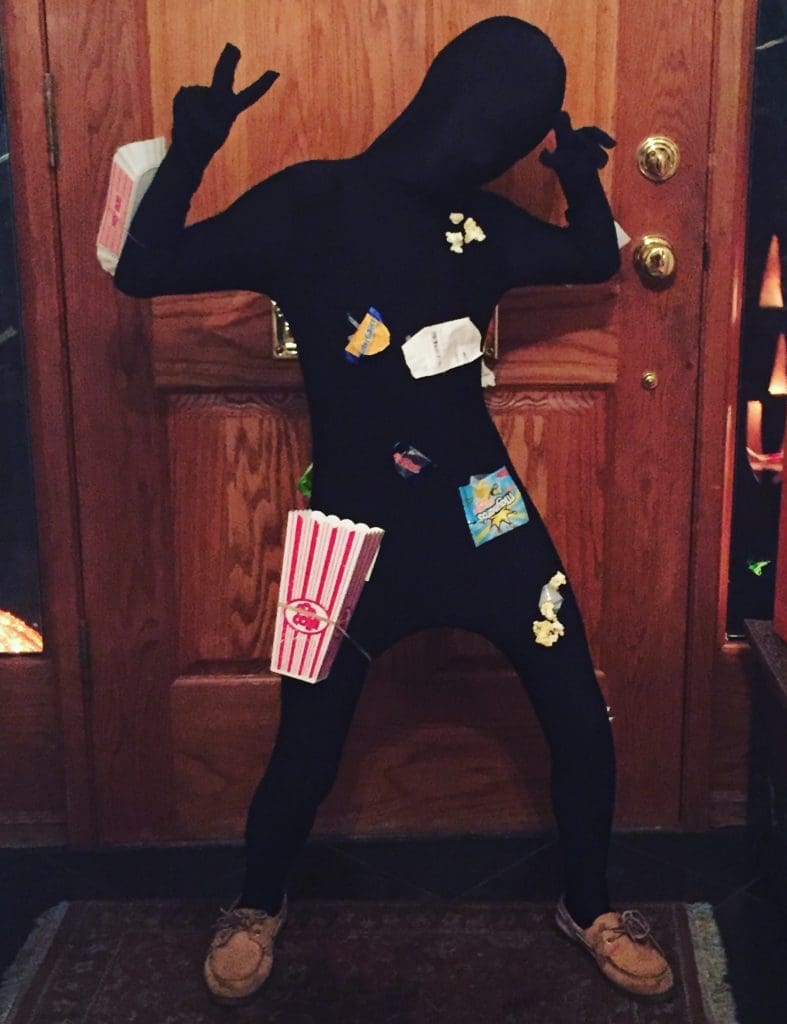 5. Mummy-mia! This is one easy DIY Halloween costume.
Stock up on toilet paper or gauze and get ready to make the easiest costume ever.
Just wind your product of choice around the body, being sure to keep legs and eyes free.
Tuck in ends as you go. Need a little inspiration? Here's how to wrap up this great DIY Halloween costume idea!
6. Now serving: this table-for-one DIY costume idea
Set the table for this fun this Halloween, with a costume that's a cinch to create.
First, find a cardboard box –rectangular boxes work well and they're easier to find than round ones. Next, cut out a hole big enough for your body. Then cover the box with a tablecloth from the dollar store – you'll need to cut out a hole for your body here too.
Glue the tablecloth down to stay in place. While at the dollar store, buy some lightweight plates (or paper ones), napkins, cutlery and acrylic glasses. Make sure they're not too heavy because you'll also be glueing these in place on the table surface.
You can go for an outdoor picnic look like the one featured here or set a fancy table. Either way, you'll be serving up one fun costume idea!
7. Channel your love of the elements with this DIY Halloween costume.
Remember the dreaded scientific periodic table? While it may have been hard to wrap your head around at the time, it makes for a fun DIY Halloween costume! Source a square box to cover with colourful paper.
Next, stencil the front of the box with the element of your choice. Leave the bottom end of the box open and cut out holes for your arms. This is one Cu29 Te52 costume idea!
8. Steal the show with an easy-to-make bandit Halloween costume.
Chances are you already have the items to make this adorable costume at home.
You'll need black bottoms and a black beanie, and a white sweatshirt to decorate with black stripes using fabric paint. Create the mask from a piece of black felt and some elastic band.
Decorate a muslin laundry bag and have it handily double as a treat bag!
9. Show your true colours and dress up as a Pantone chip this Halloween.
Pantone colours have become all the rage these days, showing up on day-timers, t-shirts and in cool room décor.
Turn this trend into your DIY Halloween costume with the help of poster board and your black and white printer.
Punch in two holes, add a bit of string and your colourful costume is ready to go!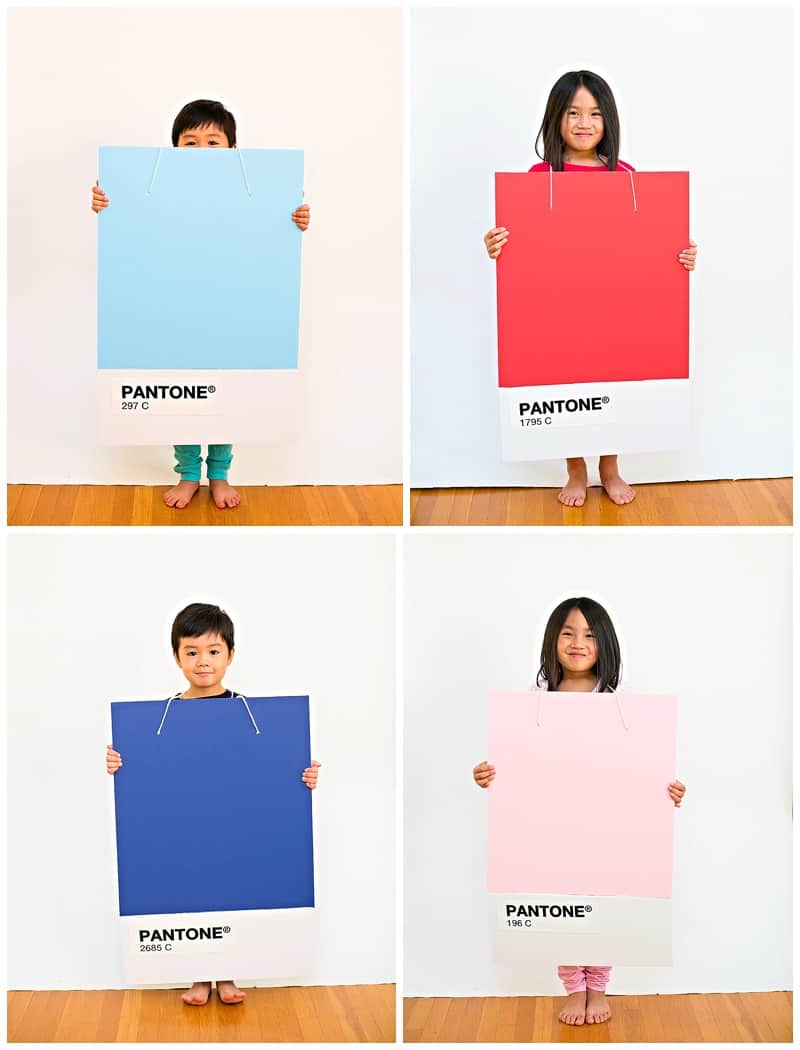 10. Best DIY Halloween costume on the (Lego) block.
Here's another way to transform a cardboard box into an inexpensive Halloween costume. Head to the dollar store for paper bowls and paint everything in a colour that matches a bright hoodie in your wardrobe. Just follow these easy instructions to get in the game.
In closing, whether you're looking for a DIY Halloween costume to answer the door and hand out treats, or whether you're doing some trick or treating of your own, stay safe. If you're going out, wear reflective strips on your clothing and look both ways before crossing the street. Remember to maintain social distance, however you're celebrating. Have a boo-tiful Halloween!