General
Upcycling Your Home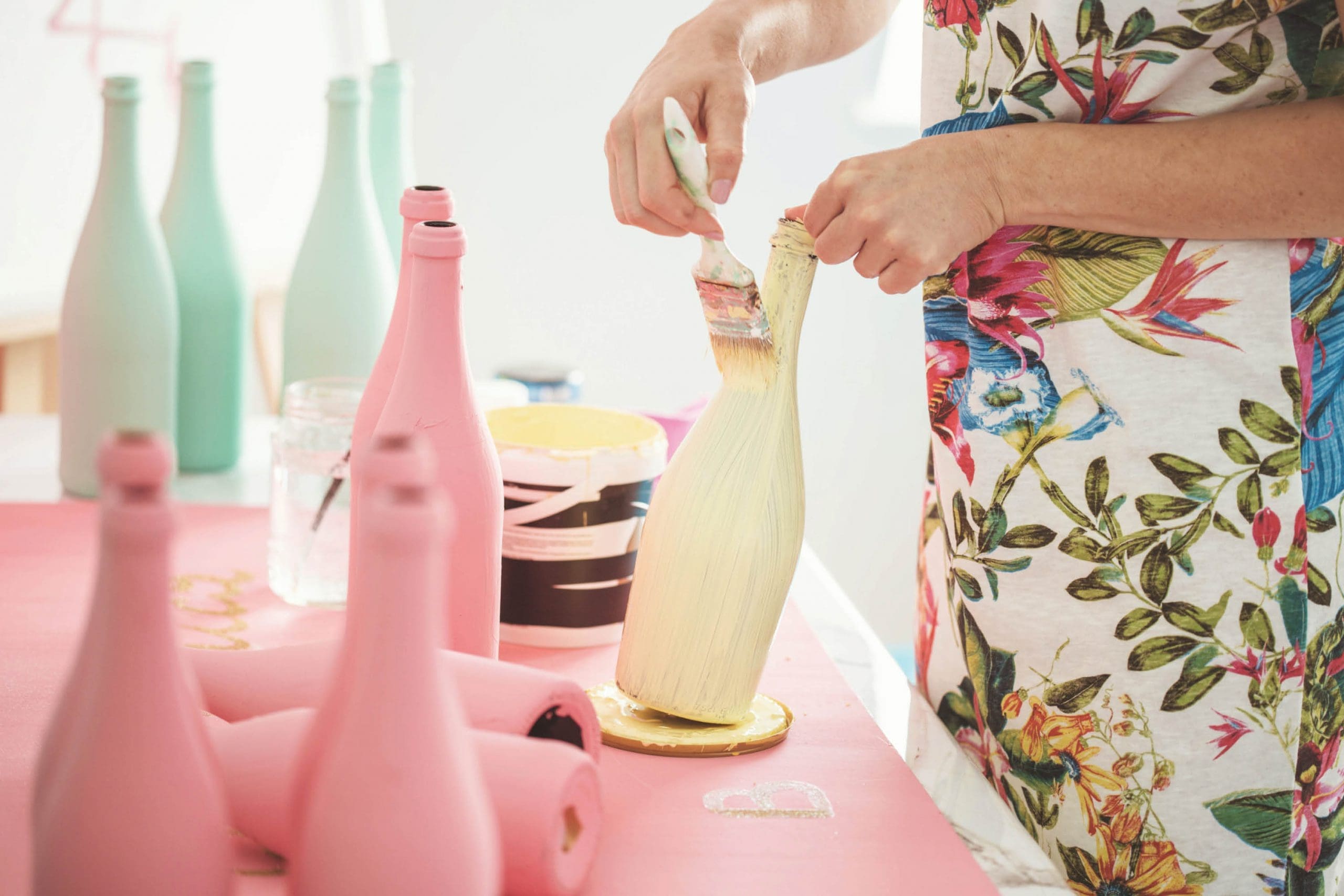 Upcycling is the art of repurposing old furniture, décor, or housewares. It can be as simple as re-imagining a mug you no longer use as a pen jar or as complicated as turning a rotary phone into a lamp. This practice cuts back on the amount of trash in landfills and allows you to create unique decorations and furnishings for your home, often for less money than a new item as well. Channel your creativity with small, easy projects or go all out—it's entirely up to you. Talk to your local craft store or market vendors for their take on this hobby to help get you started on your upcycling adventure and keep reading for ideas and tips for creating new from old.
Upcycling Tip 1: Think Outside the Box
The wonderful thing about upcycling is that there are no constraints. It begins with your imagination and ends with something more useful that it previously was. Walk through your home with fresh eyes to discover things you were going to throw away or replace. Peek in your storage room to look at decorations, clothing, and old furniture in a new way—what sparks your creativity?
Furniture
While these projects tend to be a bit bigger, they can often be the most rewarding. If you have a dresser or sideboard in need of new life, a fresh coat of paint or a few strips of wallpaper can make all the difference resurrecting these pieces. A wonderful idea that can quickly turn a plain dresser into a fun, current piece of functional décor is replacing the drawer pulls. Kitschy stores, antique markets, and garage sales often sell bins of them – as does your local hardware store – and picking out your new set it half the fun. Who knows, perhaps you'll be inspired to create your own?
Clothing & Accessories
Just because clothes don't fit anymore doesn't mean it's time to toss them. Many projects can be done without sewing machines—just scissors and a little enthusiasm. If your baby has grown out of their onesies, you can use these to create toddler t-shirts. Using the top half of the onesie, cut away the bottom portion of leg holes and snaps. Use lace or spare fabric from other unused articles of clothing to add length to the bottom. Those oversized shirts you bought on vacation? You could cut a square from the logo and back portion of the shirt and sew into a square to fit couch cushions. If you're not into sewing, fringes can be tied together to keep the pillow in place.
Home Décor
The easiest upcycling projects are simply reusing containers for a different purpose. Teacups that never get used can make beautiful little tealights by adding a wick and some wax. You can even source the wax from mostly finished pillar candles. Old picture frames look splendid after a once-over with a can of spray paint. Be sure to tape off any areas you don't want to be painted or to take out the glass. You might even consider using these frames in non-traditional ways, like as jewelry holders or a table centerpiece.
Upcycling Tip 2: Scour Yard Sales & Thrift Stores
Finding goods to work with is half the battle and knowing exactly what you want isn't necessarily beneficial. Upcycling can be about capitalizing on an opportunity instead of crafting an exact piece. Not having a concrete idea of what you'd like to make, such as a coffee table, lamp, or purse, gives you more wiggle room in what you find to work with.
Yard Sales
The old adage of "one man's trash is another man's treasure" certainly holds true here. Old jars, containers, or vases can be repurposed with metallic paint for a look that's quite upscale. Create fun designs with strategic masking tape or spray the bottom half of the vase into a bowl of paint to elevate a simple object into a stunning centerpiece. Another example, an old set of chairs, could be uplifted by adding new seats. By taking out the old upholstered portion and recovering it, the chairs will feel brand new. The material you choose doesn't need to be new either, often old curtains or furniture can work just as well.
Thrift Stores
Likely, these are your best bet for fabric. Peruse the housewares section for sheets, curtains, and blankets that could be turned into something new. The goods in thrift stores have already been washed and screened for quality, making this a better place to find material. These can be reused as material for furniture, curtains, or new clothes for yourself. Second-hand stores are also a perfect spot to find old mirrors, frames, or ornaments for upcycling.
Upcycling Tip 3: Consider Your Strengths
Not everyone is a master of woodworking equipment or the sewing machine. If you are interested in doing projects that involves these skills and tools talk to someone you know who specializes in these areas If you feel that upcycling is a passion of yours, an investment into some classes may help you create even better projects. Overall, this added cost could be outweighed by the savings you'll earn fetch over time.
Painting, Staining, & Wallpaper
Though perhaps not technically "upcycling" and more akin to renovating, painting, staining and wallpaper could be the most impactful strategy to making something old, new again—and the easiest to learn. The investment is small, but the payoff is huge. With a few brushes and sandpaper, you can change a dated credenza into a statement piece in your home. Wallpaper takes a little practice to really get comfortable with it, but the patterns and colours available to use easily change a dated article into a feature, like this extra special filing cabinet.
Power Tools
If you're interested in building coffee tables, platform beds, or outdoor sets from other furniture, it may be time to consider turning up the power. Even a power drill can make holes and screws an easier venture without a huge price tag. A power sander or Dremel can save you from hours of hand sanding, making larger projects feasible in a weekend. If you have never used or are not education on the use of power tools, consult someone who has experience with them. You may find another upcycling fanatic to help you with future projects!
Getting Started: A Few Tools & Your Own Creativity
While undergoing a project like this may seem daunting, you can get started with resources you already have around your house. Masking tape, scissors, and pens or pencils are most of the tools you will need for painting-based projects. Household sponges and craft brushes work wonders, and if you've got touch-up paint laying around the house, this is the perfect time to use it!  Work with what you have first, you may find out you already have everything you need to start upcycling.
Remember that these crafts are an exploration—a successful project doesn't mean it turned out exactly as you intended, it means you created something new and functional. Regardless of why you've chosen to start upcycling, there are many of reasons to be proud of it. Not only will you have new furniture you can say you had a hand in making—you'll save money on buying brand new while sending one less piece to the landfill.
Read more about making environmental choices, read How to Reduce Waste During the Holidays.