Kitchener – Waterloo Movers
Southwestern Ontario's moving company
Looking to move your home or office? Call Kitchener-Waterloo's leading movers. AMJ Kitchener-Waterloo offers expert logistics and flexible storage solutions to make your move smooth, on time, and on budget. Our Kitchener-Waterloo movers are pros in planning every detail – whether you're moving around the corner or around the world. No wonder AMJ is considered one of the most reliable moving companies in Kitchener-Waterloo. Call AMJ Kitchener-Waterloo for a hassle-free move that will get you to your next home or office, stress-free.

Hours of Operation
Weekends: 8:00am – 5:00pm
Saturday: 8:00am – 5:00pm
Sunday: 8:00am – 5:00pm
Thursday: 8:00am – 12:00pm
Friday: Closed
Contact Info
102 – 305 Industrial Road Cambridge, Ontario N3H 4R7
Moving Southwestern Ontario
Custom home & office moving
Proud to be highest rated movers for quality in Kitchener/Waterloo
Experts in local and long distance residential and commercial moves
Exclusive offers and discounts for CAA & CARP Members
Logistics and storage solutions to handle complex moves
Internal pad wrapped services
Complete office moving and design
Fully committed to environmental sustainability
Full safety protocols in place
All crews are fully background checked and bonded by a certified independent party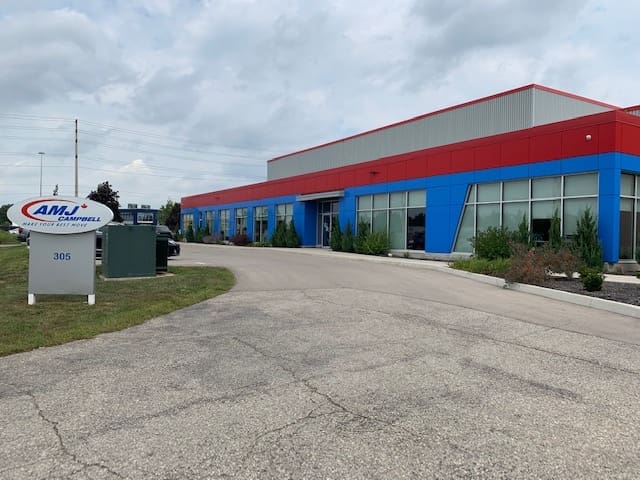 Kitchener – Waterloo
Kitchener – Waterloo movers since 1990
Serving Kitchener and areas
For almost three decades, the AMJ Kitchener-Waterloo has been the go-to choice for homes and businesses moving in Southwest Ontario. What does our extensive experience mean for you? It means you can rely on us, whether you're moving around the corner in Kitchener-Waterloo or across the globe.
As movers in Kitchener & Waterloo, we bring more than just strength to the table; we're also your personal moving consultants. We listen carefully to your needs and help you plan every detail of your move. Plus, while we're part of Canada's largest coast-to-coast moving network, we're also your neighbours. We know the local neighbourhoods and businesses inside and out, and we really care about making your move a smooth one. It's like having a friend help you move, only this friend comes with deep connections, expertise and doesn't expect you to order pizza.
Looking for a moving company in Kitchener & Waterloo? Your search ends here. With AMJ Kitchener/Waterloo, you get the best of both worlds: personal, neighbourly service that's backed by the robust infrastructure of Canada's leading moving company. Talk to us about making your next move smooth, on-time and stress-free. Your satisfaction is our ultimate goal, and we can't wait to help you start your next chapter.
Here's a free estimate!
Kitchener – Waterloo
Custom moving in Kitchener – Waterloo
Bringing you all-inclusive, stress-free moves since 1990
Home moving
Home moves are stressful. That's why AMJ's Cambridge movers work to keep efficiency up and your worry level down. Whether you're moving locally or internationally, our local moving experts oversee your entire move, provide logistics to plan and track every step, and even offer storage solutions for when move-in and move-out dates don't match. We do what we do, so you arrive happy.
US & international moves
Talk to AMJ's Kitchener/Waterloo moving experts about your overseas or cross-border move.  They're specifically trained to manage every detail– including corporate relocations. You'll even have a personal AMJ Campbell advisor to guide you and keep you informed, every step of your move.
Packing & protection services
Focus on the bigger picture and leave the packing to us. Our efficient, expert packers will treat your things like they are our own, plus you can rest easy because when we do the packing, it's automatically protected by AMJ Campbell.
Custom crating
Have a challenging piece to move?  Our third-party suppliers specialize in building custom crates for whatever you need to move. From fragile items to oversized ones and temperature-sensitive pieces to irreplaceable works of art, we'll build the crate to get it there safely and securely.
Special product and home deliveries
From appliances and electronics to fragile and unusual items of any size, AMJ Campbell Cambridge movers can deliver it to your customers for you. Our advanced home delivery program helps businesses like yours service your customers, while keeping you on time and on budget.
Specialized logistics
Multi-stop moves can be challenging to plan, but that's what AMJ's logistics team specializes in. They have the know-how to turn complex moves into simple, secure and seamless projects — working with whatever you're moving and wherever you need it to go.
Office moving
Moving offices can be complicated. AMJ's Cambridge moving team knows how to plan office relocations to help keep downtime to a minimum. Looking to start anew at your new address? We can also help you transform your office in a cost-effective, timely way with great design, adaptable furniture, pro installation, full moving and furniture recycling. We'll work hard to get you back to work – in a way that works for you.
Moving boxes
Need moving supplies? We sell them. From boxes to packing paper to bubble wrap, our Cambridge moving experts have what you need to pack, protect and move your possessions confidently and securely.
Storage and warehousing
Our secure, affordable storage keeps your possessions safe, under the watch of AMJ's specialized team. Our large warehouses mean we can accommodate businesses of all sizes, making this a great solution for commercial moves.
Affinity Vaults
Our specially engineered moving containers are a great way to easily transport and store small shipments throughout Canada. Use our affinity vaults and get guaranteed moving, extended delivery date options and the ability to store your possessions securely in one of AMJ Campbell's cross-country warehouses until you're ready for them.
Kitchener – Waterloo
Community Support
The AMJ Campbell Kitcherner – Waterloo family is actively part of the community and supports various charities including Children's Aid Foundation, JDRF, The Truck Convoy for Special Olympics and KidsAbility. We are also a founding co-member of the Givesome program.
National Partners & Sponsorships
Sponsorships
Our partners do incredible work to keep the Waterloo region active and thriving. AMJ Campbell Kitchener is grateful for these relationships to help create positive change: Wilfrid Laurier, Roger's Hometown Hockey, Curling Canada, the Grand Slams of Curling, and PeaceWorks.
National Partners & Sponsorships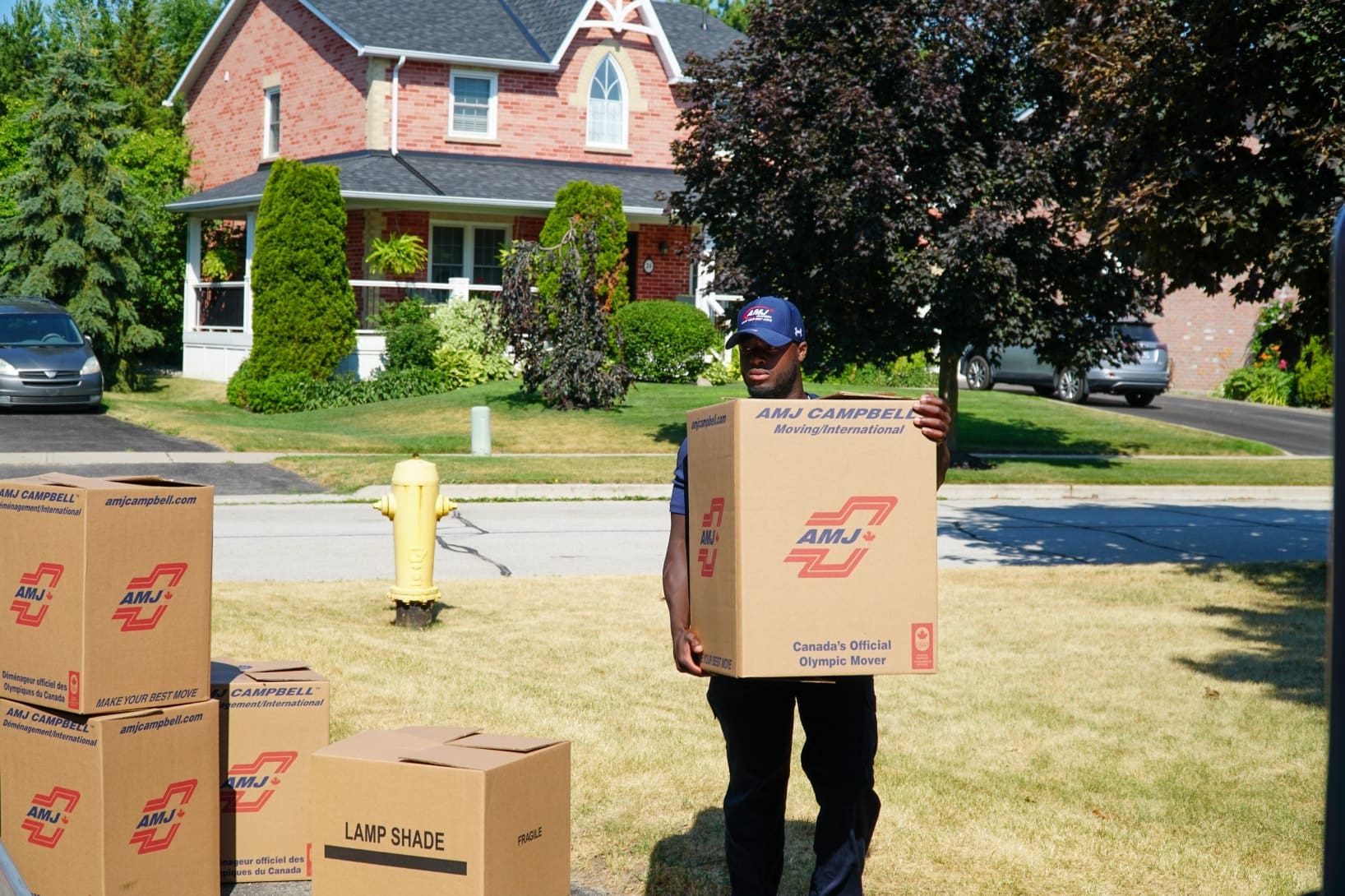 Kitchener – Waterloo
Leadership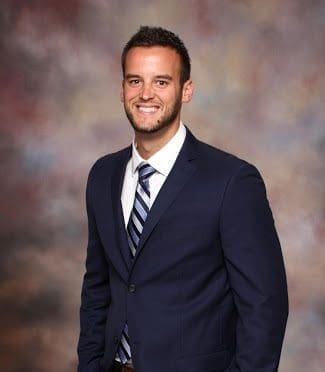 James Messenger
General Manager
"We strive to exceed expectations. Thank you to our community."
James Messenger
General Manager
Contact James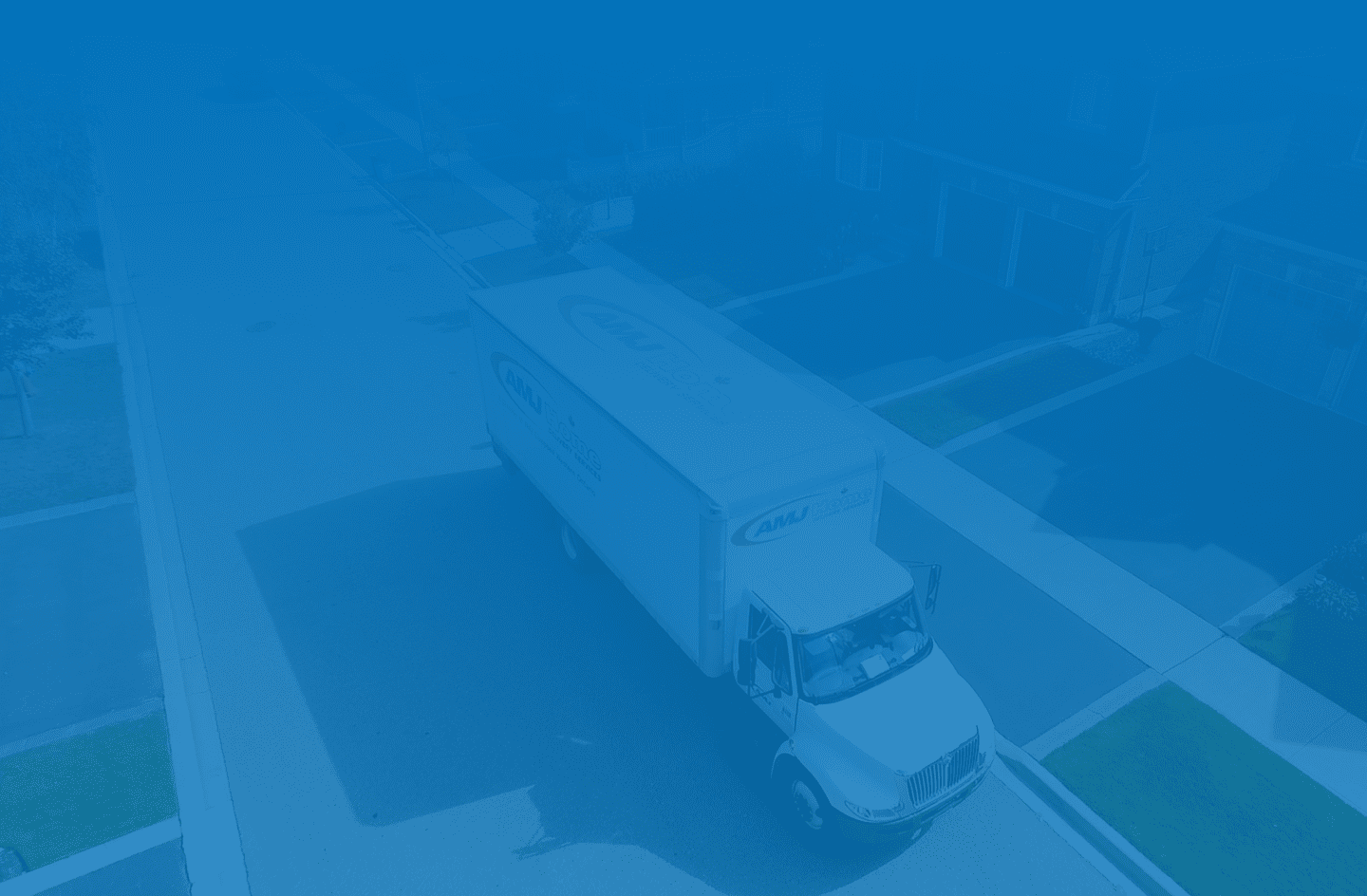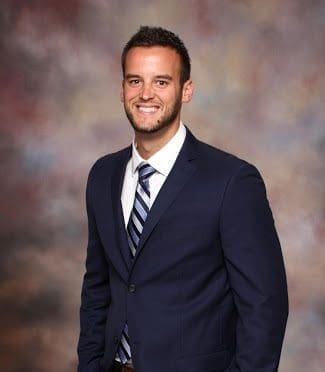 James Messenger
General Manager
Contact James
It's no surprise AMJ is one of the best moving companies in the Waterloo region.
We're here to support you through Covid-19
AMJ Campbell has full measures in place so you can move as safely as possible during Covid-19, under recommendation from Health Canada. We're in this together.
Reach

out
Latest Reviews
Geoff Roberts
We used AMJ for our local move. Found AMJ on the CAA website so decided to ask for a quote. The rep came over and did a in-person consult and we had the quote within 2 business days! Very reasonable and decided to go with them. The 3 guys who did the move were very professional! Would suggest them if you need a move!!
Cindy Baker
"We were extremely happy with AMJ! They came out to do a detailed quote and were very professional. They responded to emails and phone calls promptly and were great to deal with. Fast forward to moving day, the guys worked very hard and fast! They were respectful and very careful with our stuff and home. They worked really well together and made the move go very smooth and effortless"
Community Bison
"AMJ Campbell is the only moving specialist to trust with your moving needs! They offer a service that is above and beyond to ensure your experience is as seamless as possible. They offer many packages to get you from point A to B that allow you to focus on other things rather than packing and lifting! Call Darrin at AMJ Campbell for your next move!!"
Jeff Schmidt
"I have nothing but good things to say about the team at AMJ Campbell in KW. Their communication and quoting process made me feel good about trusting them with moving my stuff. On moving day they arrived when expected, and they worked quickly and efficiently. I only had them move heavier items that I wasn't able to move myself, and they did a great job of disassembling and reassembling items. Anything that was in danger of getting scratched was wrapped in moving blankets. Their three-person team moved everything across town in less than half a day. Well done!"
Your next career move could be with AMJ Kitchener – Waterloo!
We're always looking for great people to work with. Check out our latest job opportunities with AMJ Campbell.
View positions
Tell us about your move.
1 888 AMJ MOVE (265-6683)
Take care of your budget.
Here's a free estimate!
Get a Quote