Kelowna Movers
Moving in Kelowna? Call us.
Whether you're moving a home or a business in Kelowna or the Okanagan Valley, AMJ's Kelowna moving team can help. We have decades of experience, logistics expertise, expert moving crews and storage solutions to make your move smooth and stress-free.
Hours of Operation
Weekends: 8:00am – 5:00pm
Saturday: 8:00am – 5:00pm
Sunday: 8:00am – 5:00pm
Thursday: 8:00am – 12:00pm
Friday: Closed
Contact Info
103 – 2662 Compass Court Kelowna, British Columbia V1Z 3P3
Custom moving in Kelowna
Let Kelowna's top movers help you relocate
Full-service, local and long-distance residential moves
Complete office moves and office design services
Specialized logistics for complicated moves
Exclusive offers and discounts for CAA and Aeroplan Members
Award-winning movers for quality service
Fully committed to environmental sustainability
Top-rated packing/unpacking, crating/uncrating services
Strict safety protocols in place
All moving crews are background checked, licensed and bonded
Kelowna
Moving Kelowna since 1989
Experts in home and office moving
For more than three decades AMJ's Kelowna moving experts have been helping people move their homes and businesses around the corner and around the globe.  In fact, our services regularly earn industry awards. People in the area call us because they are getting the best of both worlds: we're local, but we're also a part of Canada's largest moving company.
What does this mean to you? Well, first, you get the benefit of a local team who knows the ins and outs of local neighbourhoods and businesses.  We like to think of ourselves as neighbours helping other neighbours start their next exciting chapter. Second, when you book your move with AMJ Kelowna moving experts, you're also getting moving expertise backed by the infrastructure of Canada's largest full service moving companies.
So, whether you're booking a local move or an international move, a home move or a commercial move, need our logistics expertise to get you to your next destination by land, sea or air, or even if you're in search of storage solutions to bridge the gap between your departure and arrival, you can count on our experts can help. The AMJ Kelowna moving team is dedicated to providing personalized services and expertise in everything we do — down to the very last detail of your move.
Here's a free estimate!
Kelowna
Kelowna's top movers
Bringing you all-inclusive, stress-free moves since 1989
Home moving
Moving your home is a big deal. And big deals can come with a lot of stress. That's why AMJ's Kelowna moving experts are committed to take care of every detail to keep your residential move smooth and stress-free. Our Kelowna moving team has experts to help you plan your local or international move, handle logistics solutions for more complex moves, and even provide storage solutions in case your move-in and move-out dates don't align.
Office moving
We've made moving businesses our business. The AMJ Kelowna moving team knows how to plan office relocations in a way to keep downtime to a minimum. Our moving experts know how to move oversized furniture, complete workstations and sensitive computer equipment. Not only that, if you're looking to start fresh in your new destination, we can also help you design your new space, source adaptable furniture, professionally install within your space and even recycle your old furniture to get your new space working for you. Call our Kelowna moving experts to help get your office back to work – in a way that works for you.
Custom crating
When it comes to moving, one size rarely fits all. That's when we call on our trusted third-party suppliers who specialize in building custom crates for anything our customers need to move. So, throw us your challenge. As Kelowna's top movers, we'll figure out how to crate it and move it safely and securely.
Moving boxes
Too busy to hunt down your own moving boxes? AMJ's Kelowna movers can provide you with the moving boxes and moving supplies you need. Ask us about everything from wardrobe and dish boxes, to artwork and mirror boxes, to packing paper and bubble wrap. We've got what you need to pack and move your belongings safely and securely.
Special product & home deliveries
When local businesses need a little help, they call AMJ Campbell's Kelowna moving experts to pitch in with deliveries. Our fleet has the capacity to deliver everything from appliances and electronics to fragile and unusual items of any size. Our advanced home delivery program was designed exactly for this purpose: to deliver your orders to your customers, in a way that works for you.
Storage & warehousing
Need short or long-term storage?  We have affordable, climate-controlled storage units. In fact, businesses and homeowners have relied on us for safe storage options for decades. AMJ's specialized team manages every aspect of your warehousing needs, keeping your unit safe and secure. Our large warehouses can accommodate businesses of all sizes, making this a great option for commercial moves of all sizes.
Packing & protection services
Too busy or short on manpower to get your home or office packed for your move? AMJ Kelowna's moving experts will do it for you, while treating your belongings like they are our own. Plus, you can rest easy because when our moving experts do the packing, it's all protected by AMJ Campbell.
US & international moves
The AMJ Campbell Kelowna moving team is specifically trained to manage every detail of your international move – including complete corporate relocations. We know how to get you where you're going by land, sea or air, whether you're crossing into the US, or moving across the globe. No matter how far you're going, know that you'll always have a personal AMJ Campbell advisor to guide you and keep you in the loop, every step of the way.
Specialized logistics
After so many years in the business, the Kelowna moving team has pretty much seen it all. From multi-location moves across the country, to complicated moves across the globe, our Kelowna moving experts have the specialized logistics to turn complicated moves into simple ones. So, talk to us and we'll get whatever it is you're moving to anywhere you need it to go.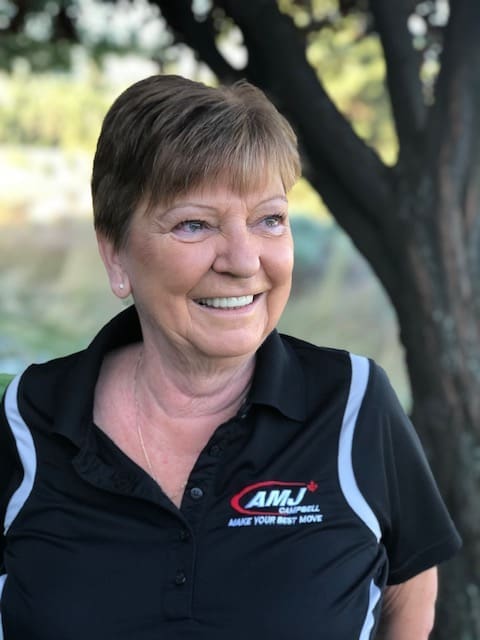 Deborah Finnerty
General Manager
"Our team is committed to providing service of the highest quality."
Deborah Finnerty
General Manager
Contact Deborah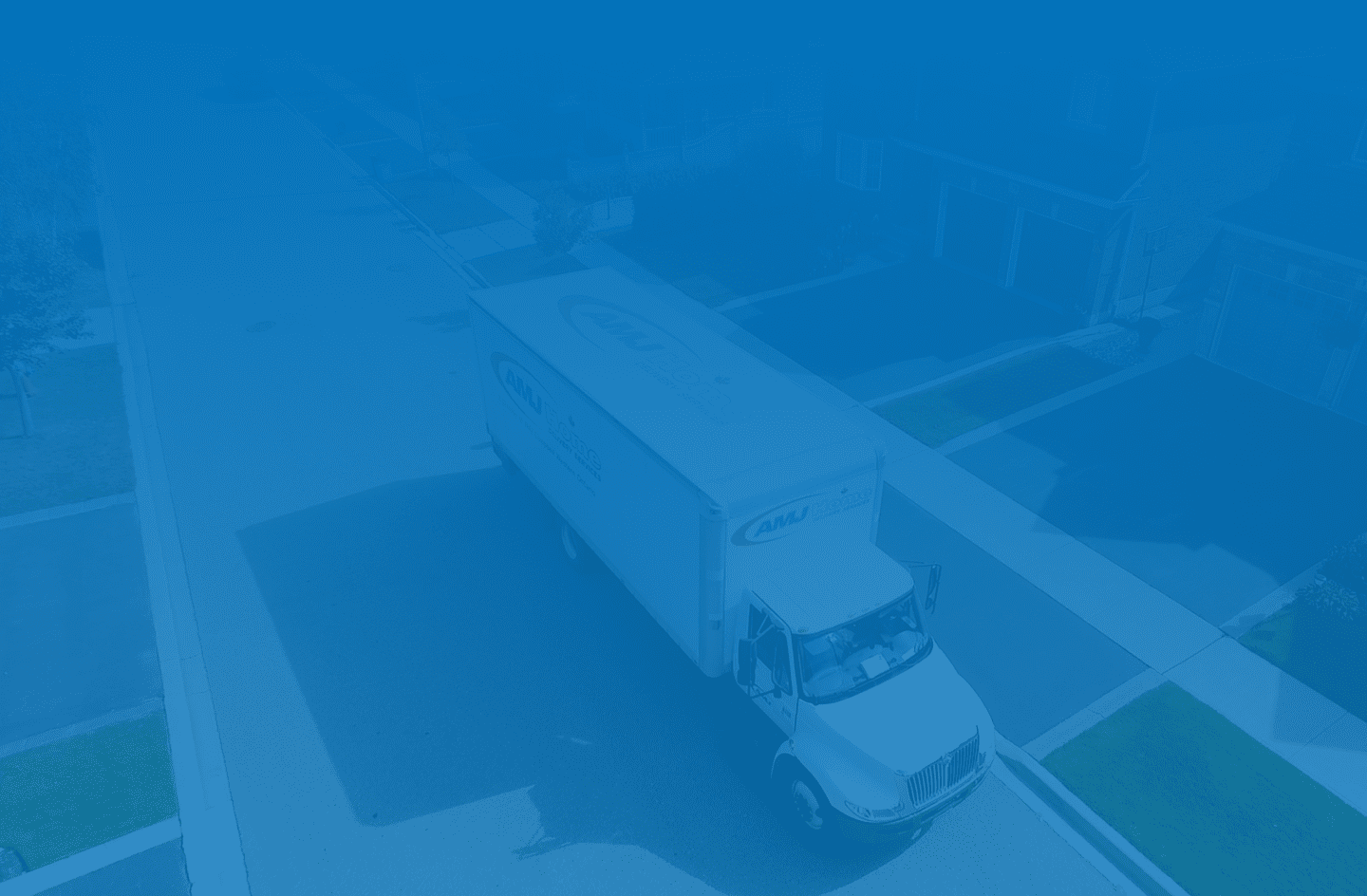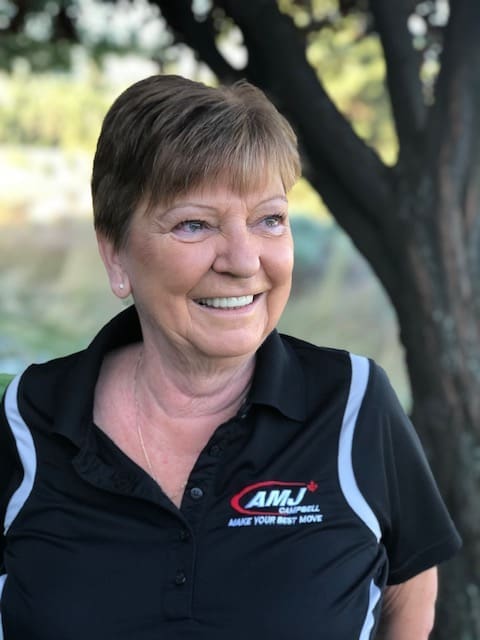 Deborah Finnerty
General Manager
Contact Deborah
It's no surprise AMJ is among the best movers in Kelowna.
We're here to support you through Covid-19
AMJ Campbell has full measures in place so you can move as safely as possible during Covid-19, under recommendation from Health Canada. We're in this together.
Reach

out
Latest Reviews
Doug Weber
"From start to finish, friendly professional service. The two gentlemen who delivered our goods were the best. Steep driveway did not allow trailer to park near our house (100′ driveway) so they had to make multiple trips up and down with no complaints and great attitudes. Would recommend to anyone"
Sharon & Dave Brook
"We shopped around for our local move. John was the only mover that bothered to come to our home to give a quote. The company operates professionally and takes pride in their work. On moving day it was very cold and not ideal for moving. The crew were all very friendly and efficient. They worked at a very fast pace. All items taken apart and wrapped. Nothing broken and not a mark on either house. Don't waste your time getting quotes. This is the mover to use"
Jim Killback
"The guys were great, took the time to be careful and courteous. Would definitely use AMJ Campbell for any future moves"
Angie & Stan Brock
"Excellent service from start to finish! Well done."
Your next career move could be with AMJ Kelowna!
We're always looking for great people to work with. Check out our latest job opportunities with AMJ Campbell.
View positions
Tell us about your move.
1 888 AMJ MOVE (265-6683)
Take care of your budget.
Here's a free estimate!
Get a Quote