Florida Movers
Moving in Florida?
Whether you're moving your home or business, AMJ's Florida moving team has the moving experts, logistics team and storage solutions to get you to where you're going, worry-free.
Hours of Operation
Weekends: 8:00am – 5:00pm
Saturday: 8:00am – 5:00pm
Sunday: 8:00am – 5:00pm
Thursday: 8:00am – 12:00pm
Friday: Closed
Contact Info
1701 Green Road Ste. D E &F Pompano Beach, Florida USA 33064
Top movers in Florida
Moving Floridians to new homes and businesses
Agent
Specialized team of local and long-distance movers
Exclusive offers and discounts for CAA Members
Complete office & amp; commercial moving and design services
We respect and uphold a proactive work environment in all areas of our business
Local neighbourhood and traffic knowhow
We are fully committed to environmental sustainability
Strict safety protocols in place
The entire crew is background checked and bonded by a certified independent party
Florida
Florida movers since 2011
Expert home and office moving
For more than a decade, Pompano Beach residents have relied on AMJ Campbell Florida to move their homes and businesses. AMJ's Florida office is the USA extension of our top full-service moving company in Canada. That puts a huge infrastructure at our fingertips to get your move done smoothly and worry-free. So, if you're planning a home move, an office move, are looking for storage solutions, or are making a big international move to Canada or anywhere else in the world, AMJ's Florida moving team can help.
There are many reasons that put AMJ Florida ahead of our competitors. First, we're actively involved in our Pompano community and surrounding areas, so we know the areas, the streets and many of the people who live here. Second, because we live here, we know the expectations of our neighbourhoods and businesses. That means the AMJ Florida team always goes the extra mile to make sure our neighbours are happy with our service. While we know we're lucky to be connected to Canada's largest coast-to-coast moving company, at the heart of it all, we never forget that we're in the business of helping our neighbours make important changes in their lives.
Here's a free estimate!
Florida
Florida's leading movers
Bringing you all-inclusive, stress-free moves since 2011
Home moving
Moving homes can create a lot of stress. That's why AMJ's Florida moving pros take care to cross every "t" and dot every "i" to keep your move running smoothly and your worry levels down. Our moving experts will oversee every step of your local or international move, using our sophisticated logistics solutions to plan and track your move. And should your move-in and move-out dates run into a snag, we even have storage solutions for the long or short-term. Our goal is to help you start your next chapter happy and worry-free.
Packing & protection Services
Finding time to pack up your home or business can be challenging. The moving experts at AMJ Campbell can step in and do your packing for you! AMJ Florida's packing pros will treat your things as if they are our own. Best of all, you can rest easy because when we do your packing, it's all protected by AMJ Campbell.
US & international moves
Whether you're moving somewhere else in the US, to Canada or to anywhere else in the world, the AMJ Campbell Florida moving team has the connections to get you there. Our expert overseas and cross-border moving teams are specifically trained to manage long-distance moves–including corporate relocations. When you move internationally with us, you'll have a personal AMJ Campbell advisor to keep you informed, every step along the way.
Custom crating
Have fragile artwork or a valuable collection you need to move? We can help. We use trusted third-party suppliers who specialize in building custom crates for whatever it is you need to move. Tell us what you need and we'll get a crate built for it, and move it securely to your next address.
Special product & home deliveries
More and more businesses are trusting their customer deliveries to AMJ Campbell's Florida moving experts. Think of us as part of your delivery fleet: we help deliver appliances, electronics and just about anything else, using our advanced home delivery program to deliver to your customers, on time and on budget.
Specialize logistics
AMJ's Florida moving team has mastered planning complicated moves and makes them happen smoothly. Whether you're transporting by land, sea or air—or any combination of these— our moving experts know how to get whatever it is you're moving to wherever you need it to go.
Office moving
Moving offices can involve all kinds of logistical challenges. So let AMJ Campbell's moving experts plan your office relocation in a way that keeps downtime to a minimum and gets you up and running quickly. We know how to move large furniture, disassemble and reassemble complete workstations and move sensitive equipment. And if you need confidential shredding services and business storage in climate-controlled warehouses, we offer that too. Everything our Florida moving experts do is designed to get you back to business quickly.
Moving boxes
Hunting down moving boxes takes time. And when you're planning a move, time can be at a premium. So why not let AMJ's Florida moving team provide the moving boxes and supplies you need? From wardrobe and dish boxes to cube boxes, packing paper to bubble wrap, your Florida movers have the supplies you need to pack and move your belongings safely.
Storage & warehousing
Need to store some things somewhere for the short or long term? AMJ offers secure, affordable storage solutions for exactly that purpose. Businesses and homeowners rely on AMJ Florida for safe and secure storage that's supervised by AMJ's specialized warehousing team. Our large warehouses can accommodate businesses of all sizes, making our storage units a great solution for commercial moves too.
Katie Farquhar
General Manager
"It's an honour to bring elite AMJ services to our US customers."
Katie Farquhar
General Manager
Contact Brian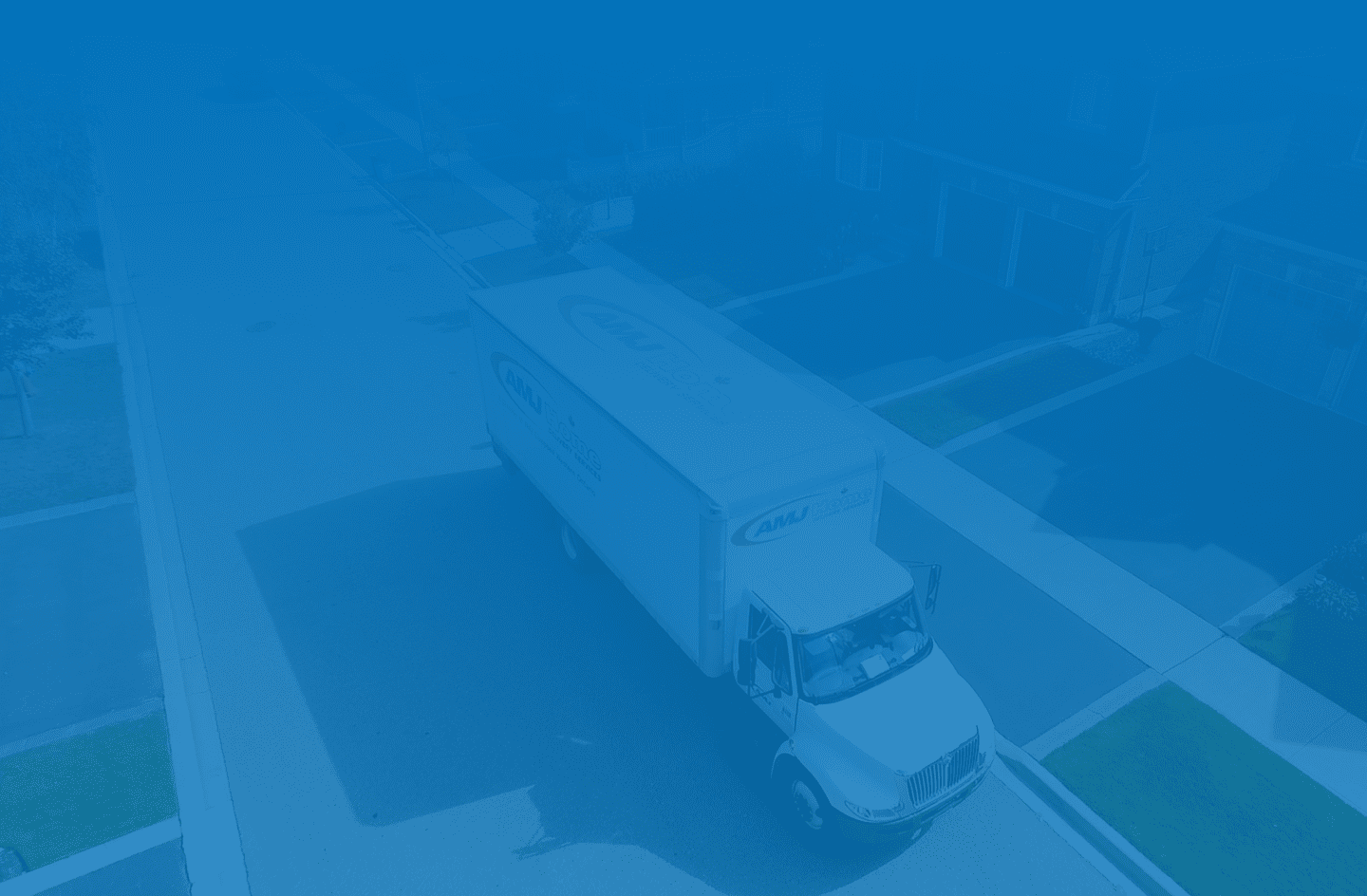 Katie Farquhar
General Manager
Contact Brian
It's no surprise AMJ is one of the best moving companies in Florida.
We're here to support you through Covid-19
AMJ Campbell has full measures in place so you can move as safely as possible during Covid-19, under recommendation from Health Canada. We're in this together.
Reach

out
Latest Reviews
Gigi Santana
"I am in my 70s and I spoke with Kate who made me feel at ease to have a moving company help me and my move. The staff was great and one of the best companies I have used"
Stephanie Delarua
" I was referred to this company by a good friend of mine and I couldn't be happier. It was my first time using a moving company and I must say I would use them again for my next move! Kate was responsive from the beginning and followed through on any questions I had. She checked in with me to make sure I was happy every step of the way. If you ever need a help with a long distance move or even local like mine USE AMJ! They will not disappoint. Even the movers were great!"
Cliff Commanday
"We did a local move from Coral springs to Parkland. These guys were fantastic. They were polite and friendly. They took their time to be careful without being slow at all. We appreciated them taking care to bring all the boxes to the right places at the new house. Overall this was our best moving experience and couldn't recommend them more."
Your next career move could be with AMJ Florida!
We're always looking for great people to work with. Check out our latest job opportunities with AMJ Campbell.
View positions
Tell us about your move.
1 888 AMJ MOVE (265-6683)
Take care of your budget.
Here's a free estimate!
Get a Quote