Advice
AMJ's Advice from the Expert: How to Handle Last-Minute Moves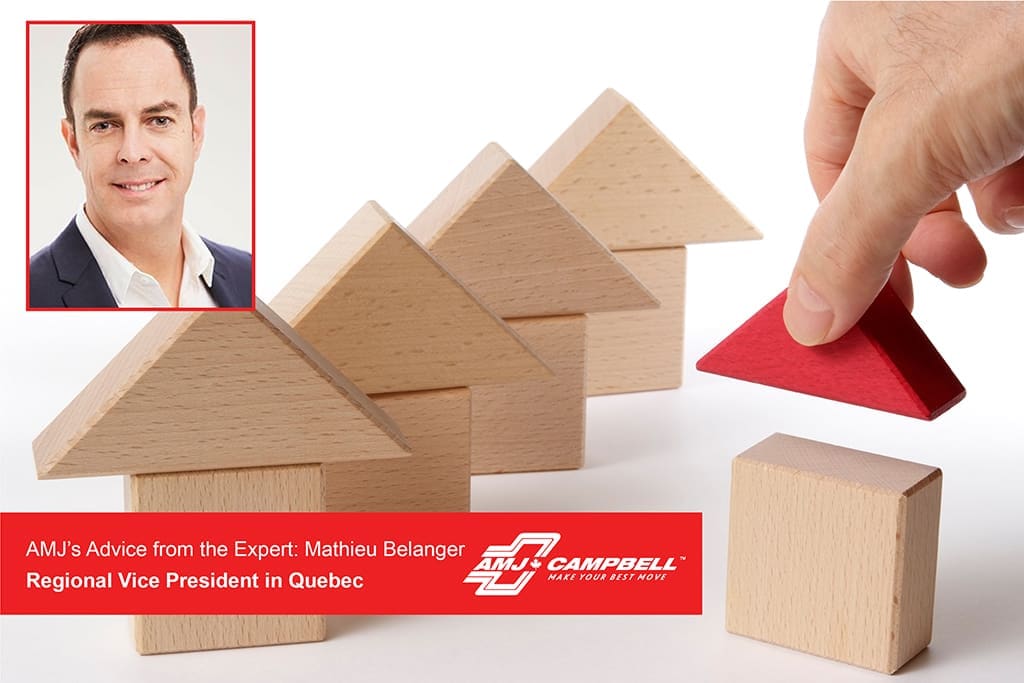 Sometimes, life happens. Perhaps you have just been hired for a job in a new city, were recently accepted to university or have a promotion that requires a rapid change of address. Whatever the case may be, you need to move quickly. And we are here to help.
We spoke with Mathieu Belanger, Regional Vice President with AMJ Campbell, to draw upon his experience and offer insight for clients facing an upcoming rapid relocation. Read on to learn how to make a last-minute move seamlessly and stress-free.
Please introduce yourself. What is your role with AMJ? How long have you worked for the company and in what capacities?
In my role as Regional Vice President, I oversee the day-to-day business operations of offices in two major cities.
I have worked with AMJ Campbell for 15 years. Nine as an Account Manager, working with corporations to develop relocation policies for their employees.
What is your specific experience helping clients with quick moves?
In those nine years I worked with corporations, private clients, and our coordination team to facilitate household moves. Often, assisting with last minute moves when someone needed to be at a specific place for a specific time, or when the decision-making process to relocate was quick.
What are some common scenarios where a client may need to move quickly?
The main scenarios where a client may need to move quickly are if they receive a quick offer on a home closure or a job offer in a different city, province or country.
What makes quick-turnaround moves different from typical moves?
During these moves, the people that are moving are under a high level of stress. We need to access facilitators to make sure you can focus on everything else that is involved in a quick turnaround move. Our goal is to make sure that we handle the moving part so that you can have peace of mind.
When organizing a quick move, what are some of the challenges people can face?
Some challenges include the availability of professional moving vans or trucks, packing—sometimes you may not have time to do you own packing or to box up fragile items—and ensuring you have made parking reservations in front of buildings or in front of houses.
Also, make sure everything is aligned concerning when you leave your old home and when you get into the new one. With quick-turnaround moves sometimes you need to vacate the origin home and the destination home is not ready, so storage or holding items on the moving van for an extended period may be required.
What are some benefits to a quick-turnaround move?
These moves can be easy come, easy go. Sometimes you build up to a moment takes a lot of energy whereas a quick-turnaround move can be done in a blink of an eye.
For clients facing these quick moves, what are two tips that you would suggest to help them remain stress-free and organized in a potentially chaotic time?
Make sure your expectations, wish-list and the information about your situation are clear and communicated well so that the specifics of your move are aligned between you and the moving company.
Also, be sure to address your timing requirements with the moving consultant or coordinator dealing with your move and try to be flexible.
Preparing to move with short notice means less time to plan and prepare. What is one thing you find clients often forget in the shuffle?
One thing I think people minimize is the time it takes to do a proper move, especially proper packing of boxes because people don't always realize how many belongings they have.
Sometimes packing takes the longest amount of time, especially if you are self-packing and want to sort through your belongings. But sometimes it is the move date itself, so be sure the move date you want is available.
What advice would you give a client to help them settle in after a quick turnaround move?
If you don't do your own packing, you should do you own unpacking so that you can sort through your belongings to get rid of items you don't need. We can also sometimes offer put-away services where we will put your items back into the cupboards on your behalf.
This is a post-move tip, but could also be done pre-move; don't forget to think about where your furniture will be going in your new place. Try to take 30 minutes to plan where you will position items before the movers arrive at the residence. The move is going to go fast and if you are not ready you will have to re-do an internal move in your home. If you already know how you want your furniture, you will be able to guide the movers as to where it should go. If you are not sure, you will be questioning yourself and the items will not be in the right place when the movers are gone.
Often relocating for work means moving to a new city that you know nothing about. What do you recommend clients do to get accustomed to a new city quickly?
Get to know your neighbourhood and do your research. You can find out a lot of information about where you will be moving online.
What is a real-life example of a time you had a client dealing with a fast move?
Last Dec. 31 at noon, we received a request to relocate an employee on Jan. 1.
We contacted him immediately to align his expectations with what we would be able to organize, given the fact that most companies had closed for the holiday.  We were able to arrange his move for the morning of Jan. 2, the next open business day. He was grateful we were able to assist him with this very limited time-frame.  The move was from one country to another and required customs documentation. We were able to assist with this process as well.  Our extensive network and flexibility enabled us to facilitate this move without additional stress to our customer.
What are some ways AMJ assists clients with their quick turnaround moves?
We will find you an experienced move coordinator that will assist you on a step-by-step basis to help you get as prepared as possible and ensure that your expectations are aligned with the services we can deliver.
Along with transportation services, we also offer complete packing services and solutions. We can help with packing your belongings, removing and mounting televisions and paintings, and the disconnection and re-connection of appliances, to name a few. We also offer state-of-the art storage if needed, and complete unpacking of boxes and put-away services.
What should someone look for in a mover when needing to relocate quickly? What's most important?

Ensure the moving company is affiliated with brand names and recommended by the Canadian Automobile Association or the Better Business Bureau. Those companies do a specific audit on movers. Also ensure your mover deals with a major van line.
Organization can be a concern for people who need to move out of one residence quickly and temporarily move their possessions before the final relocation. How does AMJ help?
We have a unique system called Affinity Vaults, where we bring you a large vault that can ship two rooms of furniture per container to a residence. The movers will load your belongings directly from your residence into the vault, eliminating the additional handling required when going to a traditional storage facility or to self-storage. We also use proper blankets and protection for your items, which you may not have access to if you use self-storage. We have Affinity Vaults all over Canada and in some cities in the US.
Are there other ways that people use the Affinity Vault service?
Affinity Vaults have a guaranteed delivery date, are water resistant and can be transported across the country. So, companies could use the vaults to store or ship commercial commodities if needed.
Learn more ways AMJ Campbell can help with your quick-turnaround move by visiting the Helpful Tools section of our website.