Advice
AMJ's Advice from the Expert: How to Avoid Moving Day Surprises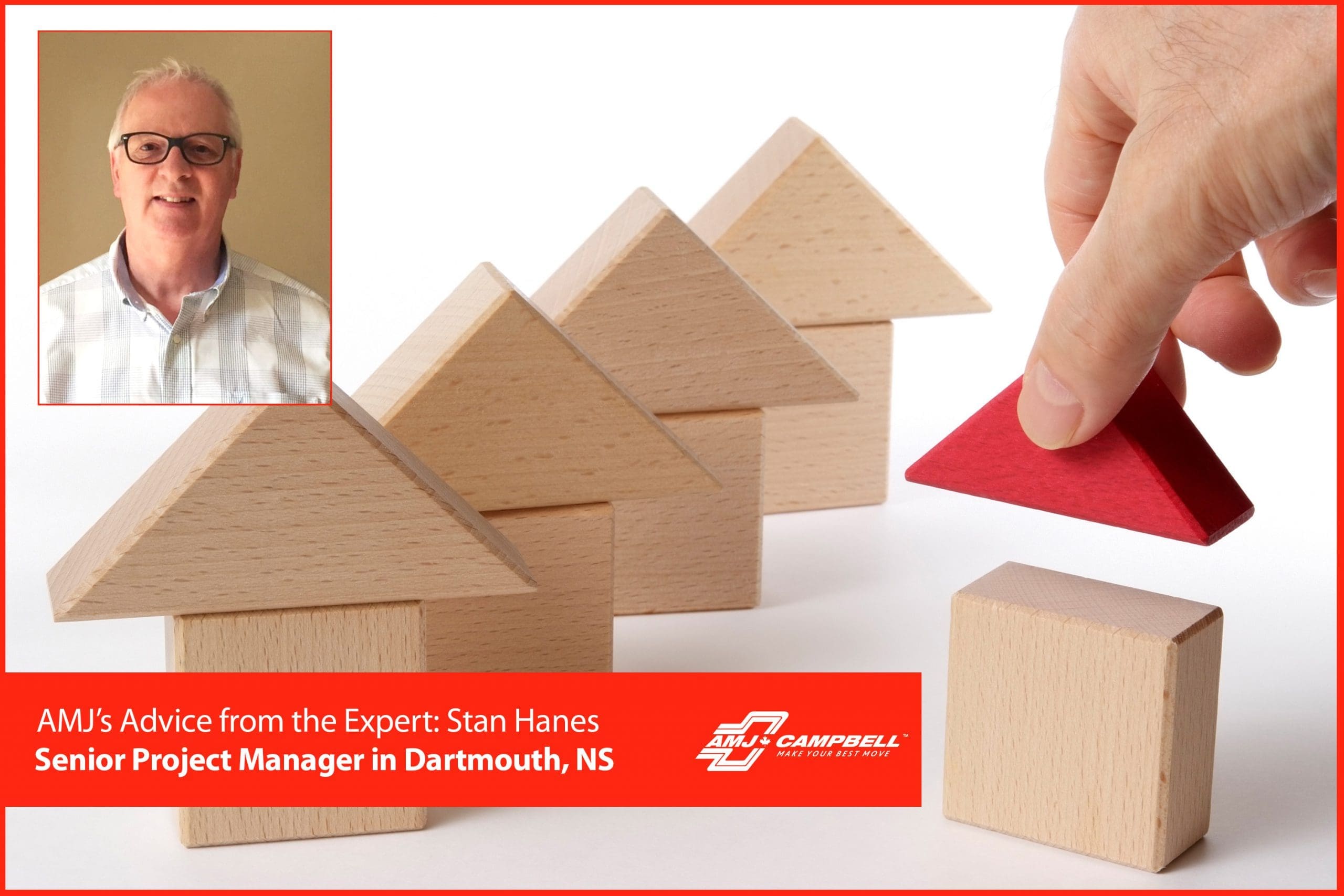 When you first moved away from home, you may have fit all your possessions in your own car. The further you get through life, the more complicated moving becomes. From one room, to an apartment, to a home with kids and pets, relocating becomes more work. Don't worry, we spoke with AMJ Senior Project Manager Stan Hanes about forgotten items, forgotten preparation, and moving day surprises, plus some simple ways to avoid a stressful move.
The Top 4 Forgotten Items
While you're packing up your life, it's easy to pack something that you will need during the relocation. In our decades of experience, we have learned how to plan and execute a stress-free move. Stan suggests creating a "carry-on", a bag that keeps all the everyday necessities you'll need as soon as you get to your new home or while you're on the move. Even with this proactive approach, we still have belongings that get packed by accident. Stan discusses his top 4 forgotten items.
Medication
While normally parked on your bathroom counter or bedside table, prescription bottles are easy items to be packed by our movers. It is difficult to know if medication is daily or occasional, so it's a wise choice to put that in your carry-on before the movers come to pack your belongings.
Glasses
With the variety of eyewear out there, glasses could be for reading, driving, or daily use. Stan suggests packing these in your carry-on or you may be reliant on your contacts until you unpack them at the new place. This also means you'll know just where they are at all times, preventing you from searching through boxes or damaging your glasses.
Passport
Your passport is vital, especially if you're moving to a new country, as you're going to need that to even get to your new place. Passports are often stored in a secure place at home, in a box or even a safe. Before the movers begin packing your home, locate your passport (and any other documents you'll need) and add it to your carry-on.
Wallet
While this seems like one item that would be hard to forget, it still makes our top four, which means is does happen. Wallets are usually set down when you get home, and not always in the same spot. This makes it easy to get packed without notice.
Commonly Overlooked Preparations
Beyond the belongings frequently forgotten to pack (or not to pack), Stan mentioned several things clients frequently forget to do in preparation for their move. We have a moving checklist that covers the basics of what to remember when preparing to move, but there are a few tiny things that often escape attention.
Liquids, Liquids, Liquids
At AMJ, we cannot move open containers of liquids. The biggest area is the kitchen where liquids are found.  Condiments, oils, and other food items that sit in liquid, like jars of pickles, pose a problem for movers. Open oil cannot be moved, as it is flammable. Other liquids run the risk of leaking into the truck and onto furniture or into other boxes. Jars that are still sealed are safe to move, while those which have been opened should be used before the move or thrown away.
The Drawer Under the Stove
When doing the final check of the cupboards, the drawer underneath the stove is often overlooked. Possibly because the drawer is mentally grouped in with the appliances. If you think you may forget to pack that tray of pans, slap a sticky note on it with a reminder to double check that area.
Lightbulbs in Lamps
Packed floor and table lamps should all have their lightbulbs removed before they get put on the truck. This is the safest way to move these pieces for everyone. Keep them in a secure box for transport, then you can pop them back in when you arrive.
Glass Table in Microwave
The microwave seems like one item when it's actually two! The glass table that rotates inside your microwave should not be shipped loose in the appliance. Instead, take it out and pack it carefully with your plates and other fragile kitchen goods.
Purge & Pitch
Moving is the best time to get rid of unused possessions in your house, Stan reminds us. If you refer to our moving checklist, you'll see that having a garage sale is the second item on this list. You may have things that are no longer needed like kids bikes, toys your children have grown out of, and other gear that has been living in your storage space for far too long. Stan suggests doing a "pitch and purge" to lighten the load and have suggested the two areas of the hours that are overlooked.
Out of Style Furniture
Upon arrival at the new house, you may realize that the sofa doesn't match, or that desk set doesn't fit. Taking measurements and photos can help you cut back on the possessions you plan to pack that you may end up getting rid of after the move. Consider the smaller belongings, too, that you may no longer use, like crock pots, empty fish tanks, or even fake plants.
Donating
A stocked pantry is nice to have, but it's not nice to move. If you're not interested in hauling 50 cans of soup across the country, there are places to donate food where it will go to people in need. Check your local listings for associations and groups, or we can suggest a charity in your neighbourhood for you to contribute your excess, non-perishable food.
Pets & Children
Moving can be a bustling and dangerous endeavour with a lot coming and going so it's a good idea to consider a play date or some activities like crafts or games to keep children included and still supervised. Similarly, dogs, cats, and other pets can find moving to be very stressful time. Stan suggests boarding pets for the day. If you're worried about their anxiety, find an animal day care center that offers spa treatments for your pet.
Cats are Sneaky Animals
Even the best efforts have varying results. Stan shared a story about a cat that went on a epic journey, by cat standards. During one family's move to a new home in Halifax, the moving van arrived with all their boxes and furniture. When the movers rolled the door open, out popped a cat. The family took a look at the furry friend who came along for the ride. No, it wasn't their cat; it was their neighbours! Luckily, Air Canada was kind enough to fly the feline home for free, arriving safe and sound back home.
In the end, it's all About Planning Your Move
Few relocations are perfect, but we do what we can to help make them seamless and stress-free. You can do your part for an easy move by mitigating hazards before we arrive. Packing a carry-on and remembering final preparations like lightbulbs and liquids can keep your task safe and comprehensive. Stan reminds us that shovelling the walk, moving garbage out of the way, and isolating children and pets can help the AMJ team do their job as efficiently as possible.
For more tips on downsizing, read these blogs: 3 Tips for a Successful Moving Sale and Downsizing Your Life: How to Decide What to Bring.
For those with pets and kids, be ready with these blogs: Moving with Kids: 4 Tips to Make it Easier and Tips for Moving with Pets.