General
Moving a Cluttered Home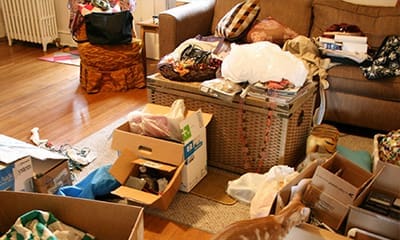 If you have lived in your home for a long period of time, the chances are it is much more messy and clutter than you realize, and once you begin to pack your belongings everything can seem so much more overwhelming than you initially realized.
We have a couple of tips for you to keep in mind while you prepare your home for a move.
Try to organize your belongings as best you can prior to packing. Create three piles: Keep, Throw Away, and Donate. The last thing you need is to move a bunch of belongings that you really don't intend on keeping much longer plus downsizing can be incredibly refreshing. Your "keep" items are pretty self-explanatory – they are items you know for sure you will use again and again and you would like them to follow you to the new home. Strongly consider donating any of your gently used items that you don't feel as though you would miss if they were no longer around, and finally throw away anything that has worn out it's purpose.
Gather up all of your essentials and pack them in separate bags or boxes, these essential items are ones you know you will need right away when you move into your home. So likely a few dishes, toiletries, bed linens, towels and a few changes of clothes. This will give you some time once you have moved to unpack your boxes in an organized manner instead of opening everything trying to find something you know you need right away.
Label all of your boxes as you pack them, this way once they have been packed and sealed up you don't have to guess what you have put inside of them. Even better, come up with some sort of color coding system so you know which boxes are going to be a higher priority to unpack.
Try downloading one of the many moving apps that are available. They are great tools to use in order to keep everything organized, and they can provide carefully cultivated 'To Do' lists if you are feeling overwhelmed and don't know where to start.
Hopefully any of this has come in handy and in the end make your next move your best and most easy move.