General
Knowing Your Rights as a Customer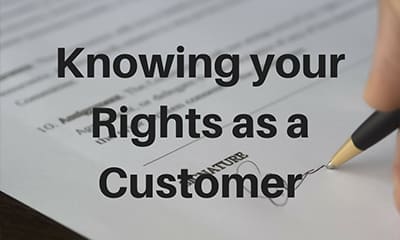 Once you have booked a move with a moving company, some of the stress can be over but it is also tough to know what your rights are once you have hired a moving company. You should always feel comfortable enough to clarify with your sales representative if you are unsure, but below are some of your rights that you can expect as a customer of a moving company.
Movers liability – once your goods have been handed off to the mover, they assume the responsibility of keeping the items safe until the time of delivery. So if there are any damages that occurred during transit or during the pick up or delivery, you should be compensated for said damages. Keep in mind there are different levels of liability for the movers, so it is important you clarify with your moving representative what level of coverage you have before the date of your move.
Agreed dates – once you have settled on an initial pick up date for your move, your sales representative should be able to give you a date of delivery or a window of dates that your delivery can be expected to arrive. All of these details will be laid out on a bill of lading. In the event that the delivery dates are not made, you have the right to request compensation of any expenses directly incurred from a late delivery.
Use of vehicle – with out of province moves, there is a chance that the vehicle used will carry multiple shipments at one time, especially if you are moving a smaller amount of stuff. If this is the case, make sure you are aware if there are multiple shipments carried on the same vehicle, and if your overly concerned discuss the possibility of exclusive use of a vehicle.
If you have chosen a reputable moving company, they should be able to make you well aware of all your rights as a customer and should have no issues talking you through any of your concerns.